If you're job-hunting during the COVID-19 pandemic, then you're probably no stranger to virtual interviews. While interviewing online is convenient (and you don't have to worry about getting caught in traffic or even putting on pants), it takes practice to nail your first impression online.
But never fear! With a few strategies, you'll be ready to ace your next virtual interview. We've compiled a list of five tips to help you feel confident, relaxed, and ready for success.
1. Select a Quiet Location
Are you interviewing from home? A good first impression starts with a distraction-free environment. Find a space where you have some privacy, and let your family members or roommates know you need peace and quiet.
An ideal interview location also includes:
A professional, clutter-free background
Adequate lighting so your employer can see your face
Fast internet connectivity for a seamless call
2. Test Your Technology
Choppy internet and sudden updates are disruptive and irritating when you're trying to have an online conversation. To prevent these distractions from cropping up, make sure all systems are operating smoothly and are fully updated before your interview.
Additionally, it's wise to double-check which video chat platform you'll be using. Familiarize yourself with the program before your video call, so you don't need to worry about technical difficulties right before or during your interview.
Quick tip: Make sure you can hear what's going on. Wear earbuds or headphones for clearer audio during your interview.
3. Wear Professional Attire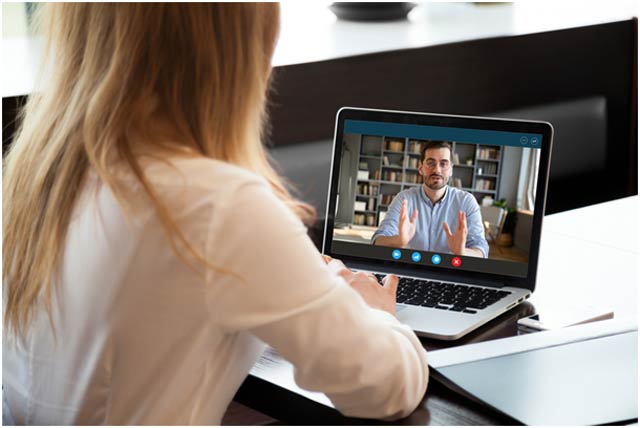 Whether in-person or online, a good first impression starts with a polished outfit. It's tempting to wear a shirt and tie on top of cartoon pajama pants (who will see them anyway?) but trust us; you'll feel more confident when you're dressed for success from head to toe.
Video chats pose a few unique challenges when it comes to your attire. Here are a few suggestions to help you look (and feel) your best:
Select a complementary color – Pay attention to the background color in the room you're using. Select a shirt or dress that pops against your background, so you avoid blending-in on camera.

Avoid distracting patterns – Loud prints and patterns are distracting, especially over video chat. Remember, you want the focus to be on your face.
Accessorize with care – Avoid the temptation to wear too much bling. Gold watches for men or silk scarves for women add a timeless, sophisticated accent.
4. Prepare for Your Interview in Advance
A little preparation goes a long way. Take time to familiarize yourself with the company and understand their policies and employee culture. The more knowledgeable you are going in, the more prepared you'll be for questions during the interview.
Make a list of commonly asked interview questions and jot down your answers. This way, you'll have something to reference, and the interviewer will be impressed by your preparedness.
5. Follow-Up Afterwards
Since you can't depart with a firm-handshake, it's great to send a follow-up email to your interviewer. Make sure you email within twenty-four hours of the interview and note something specific about the conversation you found useful or intriguing. This way, they'll know you were paying attention!
This is also a great way to gently reinforce your good impression and remind them you're excited about the opportunity.
Be Yourself
Above all, make sure to relax and be yourself. You offer unique qualities that no other candidate possesses. Let your sense of humor and hard-working attitude shine.
Once you familiarize yourself with the technology, virtual interviewing is a piece of cake. With a few simple strategies, you'll be ready to knock your next interview out of the park!