Recycled Perforated Aggregate Concrete, Nano Breath- Covid-19 Mask, Microfilm Moving Bed Biofilm Reactor using Cobalt Ferrite Nanoparticles for Waste Water Treatment, Intelligent Traffic Light Control System, Face Mask Detector using Machine Learning, Credit Card Fraud Detection Using AI and ML, Diagnosing Covid-19 from CXR using Explainable AI, and Intelligent and Smart Humanoid were some of the innovations which were presented by Amity Universities in India during the online celebration of the Amity Innovation Day-2021 on 28th September 2021, celebrated each year to celebrate the sprit of innovation and creativity in Amity Universities in India and campuses abroad. The day long celebration was addressed by distinguished Guests of Honor Padma Vibhushan Dr R Chidambaram, Former Scientific Advisor of Govt of India, Chairman and Managing Director of Bharat Bio-Tech Dr Krishna M Ella, who led the development of indigenously designed and developed COVAXIN vaccine in India for COVID-19 and the Chairman of Haryana State Higher Education Council, Dr BK Kuthiala.
Prof. B.K. Kuthiala, Chairman, Haryana State Higher Education Council, Govt of Haryana while delivering the address said that, "We are at a place where the world is changing in a fast pace, and we are contributing to building a New Bharat. Think, Create, Discover, and Invent is the mantra, I want to give to all the young scientists attending the Innovation Day. We also need to understand that we belong to universe and universe doesn't belong to us." Prof Kuthiala commemorated the phenomenal rise of quality research and innovation in Amity Universities in India especially in Amity University Haryana.
In his Innovation Day address to the august gathering of innovatars and research scholars, Padma Vibhushan Prof. R. Chidambaram Former Chairman, Atomic Energy Commission and Former Principal Scientific Adviser to Govt. of India said "Curiosity and freedom to innovate are the keys to innovation. We need to foster the spirit of innovation and focus on innovations for sustainability more and more as the future would be bright with science and technology innovation that create a bright and sustainable future for our people and global community.
Dr. Krishna M Ella, Chairman & Managing Director, Bharat Biotech International Limited in his inspiring address said, as a country, we need higher GDP growth, and innovation and manufacturing can give good GDP to country. India needs to work hard to be on 1st position in Innovation and for that good knowledge, good degrees, imaginations, and most important skills are required. He also said that "Science means simple ideas, not the complex ideas and this is the beauty of science."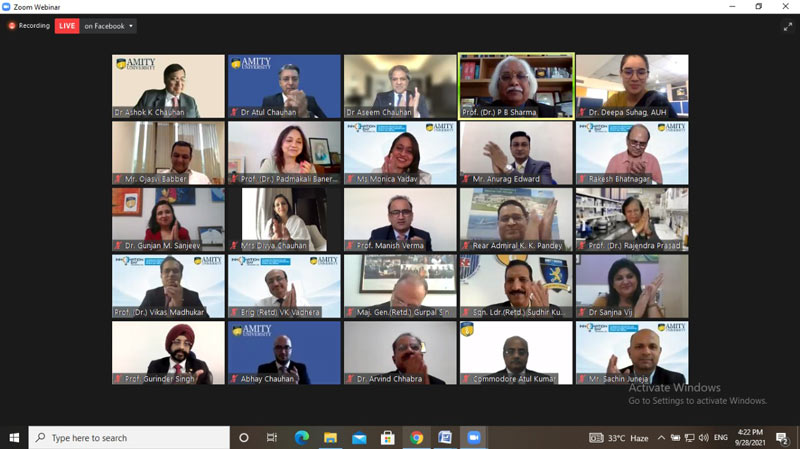 Dr. Ashok K Chauhan, Founder President, Amity Group in his address to university faculty, research scientists and students said "I breathe innovation; I dream innovation and ensure that our outcome-based research and innovation ecosystem enable us to achieve ever rising benchmarks of success. I would like to give you new full form of COVID i.e Create opportunity via Innovative Determination. What we teach in Amity are Sanskaras and Values that are embedded in the future ready professionals that our graduate are, said Dr Ashok K Chauhan who presided over the daylong celebration of the spirit of innovation and joy of creativity in Amity Universities in India and its campuses abroad".
Dr Atul Chauhan,Chancellor AUUPand President, RBEF while gracing the occasion said, "Innovation is in the DNA of Amity Education Group, and we firmly believe that the Vision of Amity inspires us to do something impactful that will not only make our country great but will create a better world. If we work hard than nothing can stop us."
Speaking on the occasion, Chancellor, AUH Dr. Aseem Chauhan said "Amity University is an epitome of higher education that blends modernity with tradition and culture, where science and technology blend harmoniously with performance, progression and innovation. He urged the scientists of Amity to focus on R&D efforts for solving the problems we are facing on today's time."
In his welcome address, Prof. PB Sharma, VC, AUH shared the accomplishments of Amity University Haryana in respect of research and innovations. At AUH we pursue research and innovation with passion and with a missionary zeal. We have 71 R&D projects, 46 Consultancy projects in the thrust areas of national and global importance. Our R&D Projects are funded by DST, DBT, ICMR Ministry of Health, AYUSH, Bhabha Atomic Research Centre, BARC, ISRO, and international agencies from Japan, Korea and also EU. AUH has published 5000 plus Research Papers, Filed 175 patents, Contributed 410 book chapters and also submitted 449 R&D projects.
He summed up AUH's philosophy in these words, "Our eyes are well set to cause innovations in plenty, nurturing a culture of innovation, making innovation a habit, contribute to solution research for the industry and society, provide an education and research environment to empower our graduates and scholars with the Wings of Knowledge and Power of Innovation so that they succeed in taking flights of success and contribute to the prosperity and wellbeing of the vast humanity."
Dr Padmakali Banerjee, the Pro Vice Chancellor of Amity University Haryana explained the 6C's Model of Academic Framework i.e Choice, Collaboration, Communication, Critical Thinking, Creativity and Change.
On this occasion the Launch of University Spin-off (Startups), University Chronicle, BRICS Newsletter, Reports on CIRF, ALRF, DRP and AIB at AUH were also released by the dignitaries.
Dr W Selvamurthy, Chancellor AUCH and President Amity Science, Technology & Innovation Foundation, ASTIF, Amity University Uttar Pradesh gave a brief presentation about R&D and Innovation Ecosystem at Amity by and Prof. (Dr.) Rajendra Prasad, Dean, Faculty of Science, Engineering & Technology, Director, Amity Institute of Biotechnology (AIB), AUH gave a detailed presentation on R & D Projects & Impact publications.
The Vice Chancellors of various Amity universities shared their best practices for R&D and innovation and highlighted major accomplishments of their universities.
The daylong celebration of Amity Innovation Day 2021 was attended by over 4000 participants that included Dr Amita Chauhan, Chairperson, Amity International Schools, Trustees of RBEF, Dr Gurinder Singh, Gp Vice Chancellor, VCs and Pro VCs, Deans, HoIs, members of faculty and a large number of young, inspired students from various Amity Campuses. The Vote of thanks was presented by Maj Gen BS Suhag, Dy Vice Chancellor AUH. The event was coordinated by Dr Vikas Madhukar, Deputy Pro Vice Chancellor, AUH and was assisted by Ms.Monika Yadav and Dr Deepa Suhag.
Amity University Haryana in a short spam of 11 years has emerged as a hub of immense creativity, thought leadership in a vibrant hub of higher end R & D in areas like Big-Data and AI, Machine Learning and IoT, Life Science, Bio-Technology, Bio-Medical Engineering, Nano-Science and Technology, Water Technology and Air Pollution Mitigation and Control and a crusader of sustainability, that has earned for our young university the honor of being a Platinum Category LEED Certified campus by the US GBC.