If you are 50 years old and want to take advantage of your style, Anvisha recommends you to read this article. And remember, if after reading, you have any questions, your Personal Shopper will have the answers! That 50 is the new 40 is a reality. There is nothing sexier than a woman who is confident in herself, who knows her body, and whose personality is already wholly forged.
The ideas about yourself, what you want from yourself and from life, and what you want to project to the world about a person, you have more than apparent, and for this reason, for the first time, you are able to promote all the good things that there is in you and that the rest notice it.
Fashion tips for dressing at 50
Do not exaggerate: When we say this, we mean that you do not take your favourite style to its maximum power. We know that at 50 you are very clear about what you like, but if casual looks are your favourites, don't be literal when choosing them.
Jeans, sweatshirts, tennis-type sports… all together is not always a good choice. If, on the contrary, a classic style suits you more, do not abuse garments of this style together or you will add years. In short, try to balance your style by using more basic garments with more special ones that make you look unique.
How to dress well at 50 is something that worries you, especially when it comes to patterns and colours, but do not give them up. They can be your best ally to enhance some parts of your body, or your accomplices if you are looking to hide others. Use them wisely and they will be a good weapon.
Covers better, not more: say yes to midi skirts and baggy pants, but without hiding your body. Keep showing your curves by balancing the proportions of your outfit: if you wear skinny pants, opt for a loose blouse or a top, and vice versa, if you wear palazzo pants, balance it with a fitted top.
Do not forget the accessories, they are essential, never leave home without them! A basic look can become something very special with the perfect bag and scarf because any accessory that you like will give your outfit a good punch.
Borrow menswear from your husband, brother or friend from his closet: Yes, as you read it! A classic shirt, a double-breasted blazer or a sweater can be the touch that gives you that exciting air, think of Diane Keaton's style! A great idea to dress your 50 years with style.
Looks for women over 50
Now that you've gotten hold of the most basic tips for your style, you're ready to take a look at some of them in detail. At 50 you are an all-terrain woman, you don't stop, work, family and a thousand other things. Do you need to go stylish but adapted to the race? We help you!
Casual look for a 50-year-old woman
"Comfort" is the keyword for your most casual look. For your meal with friends or your thousand errands throughout the day, you need to feel free when moving, but not lose an iota of style, for this reason, the best option is your favourite jeans, those that are not too tight but that they fit like a glove.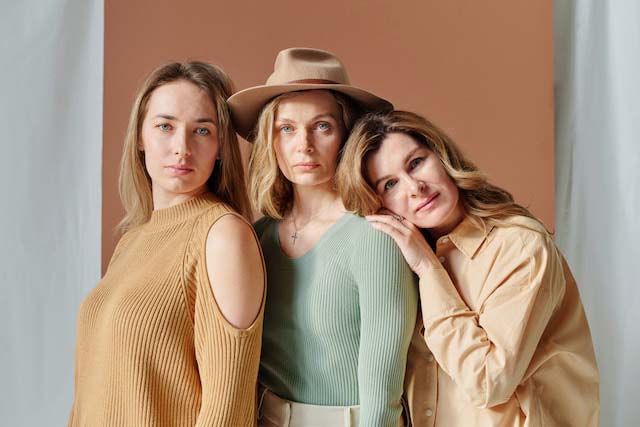 Add a simple t-shirt and a jumper for the colder days, combine it with a blazer for that touch of just the right style, and complete the look with ankle boots or trainers depending on the plan.
Office looking for a 50-year-old woman
Like every successful 50-year-old woman, feeling professional when it comes to work is a must. This does not mean that you have to fall for boring and/or classic looks: you can be stylish and comfortable without neglecting professionalism.
Choose a loose-fitting shirt with large pockets on the front for a less classic and more casual look. Combine them with tailored trousers so as not to lose the professional essence, and complete the look with fashionable sneakers. Don't you think it's the perfect combo?
Elegant look for a 50-year-old woman
Dressing your 50s in style doesn't mean you have to give up looking impressive, especially if it's a situation that calls for elegance. The suitable print can mark a before and after in your most stylish look if you do it with your head.
On more than one occasion you will have thought that animal print is for young girls and dear, we are sorry to tell you that you have been confused. A pretty leopard print midi skirt is just what you need to create style. Combine it with a white shirt and a medium oversize blazer: and you will look perfect for that particular date!
Capsule wardrobe for women over 50
If we stop to recap and create a capsule wardrobe with all this, the three must haves that should not be missing in your wardrobe would be a classic shirt, a blazer and denim jeans. Combinable with each other, but also versatile separately to create an infinite number of outfits.
With the classic shirt, you can create both formal and informal looks, thanks to the help of cardigans or blazers. Denim jeans will never leave you, they didn't at 20 and they won't at 50. And the blazer will be your greatest ally to add a touch of style to all your looks.
Also Read: