Ever since the Corona Lockdown was announced across India and strictly enforced by the Men In Uniform, the Animal Kingdom seem to have taken to the streets, literally.
While, in a first of its kind initiative, fearful citizens were being tagged into covid19 isolations and Drones deployed to check movement of people and vehicles in high density areas across cities like Bangalore and other metros, fear seems to have ebbed among the animals with many venturing to reclaim their space, after centuries of confinement to the jungles.
A variety of them, some even rejoicing and dancing on the zebra crossings could be seen across India or rather across the world. Spotted deers, blue bulls, civets, olive turtles, elephants, even the Leopard.. name an animal and it's there.
 1. 

Leopard Comes Calling On Indian Air Force
A pair of Leopards visiting the backyard at an Indian Air Force base, in South of India. The two decide to sit down calmly and tire out the vigilant guards at the Base, who became more busy in finding out how to take selfies with the duo.
A Leopard family of two pays a visit to the Indian Air Force Station, Deolali, to enquire how IAF guys were fairing amidst the #corona lockdown.

PN: Known for agility & speeds of 58km/hr, this Indian Leopard species 'Panthera Pardus' is listed as Vulnerable on the IUCN Red List pic.twitter.com/myOkFhCpCm

— Sqn Ldr Husain ???????? (@HusainRif) April 8, 2020
 2. 

A Peacock Blocks The Zebra Crossing Dancing
Oblivious to the many peering human eyes, some peeping through windows and terraces, a peacock is busy dancing away to glory, attracting females around in the once busy roads of Parsi Colony, Hughes Road, Mumbai, India.
Mumbai me mor naacha kisne dekha? Received clip of dancing peacock near Parsi Colony, Hughes Road pic.twitter.com/uqRDwjmxlI

— Cricketwallah (@cricketwallah) April 2, 2020
 3.

 Indian Civet In Kozhikode
Just like its many other counterparts from the animal kingdom, the Indian civet too shed its shyness and came out fearlessly to cross cross a road in Kozhikode, Kerala. A very  unusual sight even by the standards of the local Mallus closeted around the place. The video of the Indian civet is being shared across the world, though it was wrongly tagged to be of Malabar civet, an endangered animal not seen since 1990.
This is a Small Indian Civet. Things which I can confirm; Video is real (not animation). Was never posted before Wednesday on Internet. Sources say it is from Kozhikode. It looks sick. Quite possible was in captive & released. It is found there normally also. That's it. https://t.co/5ginqdxxJx

— Parveen Kaswan, IFS (@ParveenKaswan) March 27, 2020
 4.

 Pack Of Street Dogs
Crediting themselves of having chased away all the cars off the street, a pack of dogs bask in self pride and pose for a rare photo-session for our cameraman.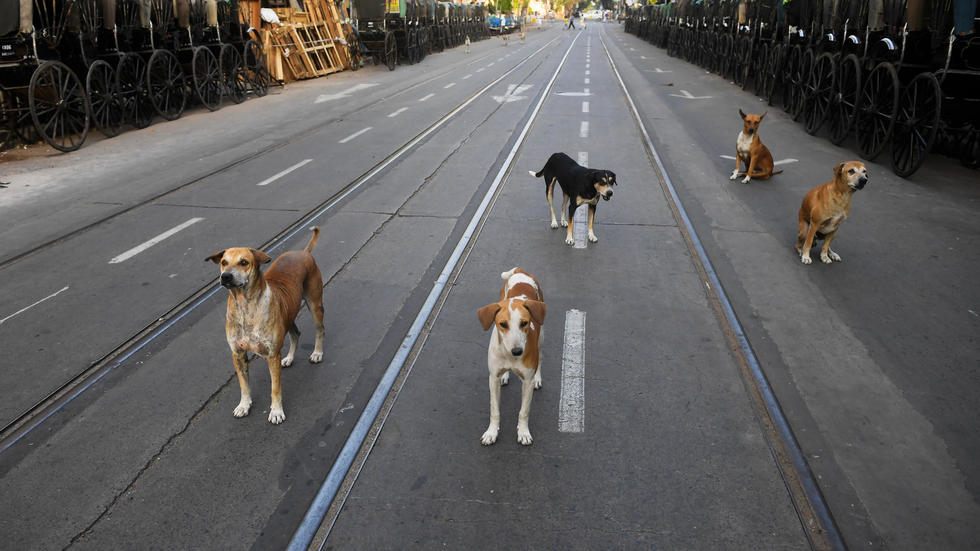 5.

 An Elephant In Dehradun, India
Also Read: Language Of Desire – No One Teaches You How To Retain Relationships
An Elephant Strolls down the streets of Doiwala, Dehradun, looking for human trace to say hello to. But the lone human whom it met, threw away his motor-bike and just vanished without even exchanging courtesies. None else could be sighted despite kilometres of vain search amid lockdowns.
Dehradun. The animals are out in the open and we are locked in. Love it. ????♥️ pic.twitter.com/tvqxhKYZUM

— Ishita Yadav (@IshitaYadav) April 3, 2020
 6.

 Spotted Deer (Chital) Negotiating Tirupati Highway
Spotted Deer that is normally difficult to spot in daylight, could be spotted negotiating the natioanl highway to Tirupati. With temples closed and people confined to indoors, many animals are venturing out from the nearby Tirumala hills, a part of the famous Seshachalam biosphere reserve.
Nature rebooting itself ????
A herd of Spotted deer on the road to Tirupati. pic.twitter.com/eJrCTzjRzp

— Susanta Nanda IFS (@susantananda3) March 28, 2020
 7.

 Dolphins Sighted Off Mumbai Coast
A rare sight for many, in their lifetime, with the lockdown taking effect on Indian waterways as well, people reported sighting humpback dolphins off the coastline in Mumbai.
And we are now seeing Dolphins off Malabar Hill & Marine Drive in Mumbai, India ! #AnimalCrossingNewHorizons #Lockdown21 #MotherNature #Freedomtoanimals pic.twitter.com/4tyV433qhZ

— sanjay bhutiani (@sanjaybhutiani) March 27, 2020
 8.

 Blue Bull (NeelGai) In Sec 18, Noida, India
Know for fast breeding and creating havoc for formers in North India, Blue Bulls (NeelGai's) often keep away from towns and city roads. But amid the lockdown, one of them comes loitering around to see if some shops were open at India's "Great India Place Mall' in sector 18 Noida.  Some kind of a cross between a Cow and an Antelope, these sturdy animals move in herds often damaging standing crops and thus hated by farmers.
Neelgai (Blue Cow) in front of #GIPMall #Noida… whr usually so much traffic each days pic.twitter.com/NxHIqvXMyu

— Ashish Lingwal (@LingwalAshish) March 27, 2020
A herd of them (NeelGais) having funtime and running amock on the streets of Chandigarh, India
And now the Neelgai are running wild in Chandigarh… @angadc what the heck are we doing in our respective cities ? pic.twitter.com/pJgI7miMcm

— Vir (@virnakai) April 2, 2020
 9.

 Olive Ridley Sea Turtles Off Odisha's Beach
Amid less of human activity, hundreds of Olive Ridley sea turtles have arrived for nesting at Odisha's Gahirmatha Beach and Rushikulya Rookery, the most preferred nesting grounds of the turtles.
Hundreds of Olive Ridley sea turtles have arrived for nesting at Odisha's Gahirmatha Beach and Rushikulya Rookery, the most preferred nesting grounds of the turtles.

Wildlife officials have also claimed that this year could see the highest number of turtles. pic.twitter.com/u7c7yipnPr

— BBC News India (@BBCIndia) March 30, 2020
It's not only in India that the fauna have shed their shyness and started coming out to mingle with the remnants of human race some of whom could still be encountered breaching the lockdown norms. Reports of unusual encounters are pouring in by the hundreds from across the world.
 10.

 Mountain Goats In Llandudno, Wales
With deserted towns and the least of hustle bustle, a herd of mountain goats fearlessly trooped into the streets of Llandudno in Wales, England some days ago. These are believed to have come from the nearby Great Orme headland.
???????????? pic.twitter.com/colbEfnCOy

— Andrew Stuart (@AndrewStuart) March 28, 2020
 11.

 Buffalo In Buffalo
Buffaloes, the original inhabitants of the city, return to the streets amid the corona lockdowns and curfews.
This is beautiful buffalo returning to the streets in the city for the first time in over 200 years. Do not forget the city of Buffalo was named after them. pic.twitter.com/Uj0QEXeV8H

— Don Salmon (@dijoni) April 5, 2020
 12.

 Herd Of Deer In London, England
A herd of fallow deer paid a visit to the bewildered residents of Harold Hill chipping away at their lawns. These are believed to have come all the way from the nearby Dagnam Park.
While the goats in Llandudno are getting all the publicity, how about a shout out for these deer who have colonised the empty streets of Harold Hill in east London? pic.twitter.com/sOZs4Tqf25

— Billy Bragg (@billybragg) April 1, 2020
As we keep our fingers crossed and pray for all humans to come out of this corona pandemic, we expect a more humane and eco-sensitive world to take shape in the future.
PN: The viral stories of swans diving in the canals of Venice and Asian elephants passed out drunk in Yunnan, China, even though entertained the world, but have turned out to be false. Even the video of an elephant taking a stroll through a village near Dehradun in India is said to be a couple of months old and unrelated to the lockdown, but not yet confirmed.
---
Enjoyed the Article. Pls do join below our weekly newsletter for the latest reviews, opinions and trends alongwith free offers and discounts.