There are a lot of things to complete in preparation for your relocation. Locating the most suitable moving company and hiring professional movers Zeromax, getting a free estimate, preparing the environment by clearing out clutter, and others. Personal belongings must be packed smartly and compactly to have enough space for other things. This especially applies to preparing clothes for moving for clients of moving companies who frequently are unsure of the ideal method of packing clothes to be moved. Since there are a variety of clothes, the method for packing clothes can vary according to the items you're packing. This means you'll have to have a variety of cardboard boxes to keep all your belongings.
Tips and advice on helping to take clothes with you to move quickly and efficiently
Whether you have a small or huge wardrobe, figuring out the most effective method to pack it for moving is an absolute must. Every item may require a different packing method and packing materials. We've gathered the top guidelines and tips to follow when preparing for your move. This information is essential for anyone looking to complete the job alone or with professional help from NYC moving companies.
Things to do prior to packing your clothes for your upcoming relocation
There are a few important tasks that you must complete before packing your clothes in cardboard boxes. To ensure that everything is organized, consider performing the tasks listed below:
Assessing all the items from the closet. Before packing your belongings, it is important to look through them to determine which items you no longer need and which items you'd like to keep. You can now sort your clothes into distinct piles that you can dispose of, recycle or sell. Sort all the clothes, put them on hangers, fold them, and begin sorting them out.
Clean the clothes. It is also important to dry and clean the clothes you have already decided to keep. Clean everything in the washer thoroughly, then air dry before folding it and placing each item into the box. Ensure that your clothes aren't damp, which could lead to multiple mildew issues.
Take into consideration whether you require additional space for your clothes. For example, if your closet is large and you do not wish to have all your clothes moved at once, consider requesting clothes storage for removal from the moving facility.
Lastly, you might consider purchasing cardboard boxes to fit different clothes.
Moving supplies and packing methods for clothing preparation
Modern cardboard boxes can store any item, even clothes. These kinds of cardboard boxes are available now:
Custom-designed crates.
You can choose between small, medium, large, or small boxes.
Boxes for dishes.
Mirror boxes.
Wardrobe boxes
Professional movers pick wardrobe boxes to secure delicate items on the hangers and fold things. For packing a wardrobe container, there are a variety of packaging techniques to use. In addition, other packing materials can be used to protect and seal the box (heavy-duty tape) or protect the item by wrapping the box in packing paper, if necessary.
When packing your clothes, there appear to be multiple ways in which you can sort everything. If you are not planning an urgent move that does not allow for such a task, think about working on sorting every piece of clothing you'd like to move before packing them.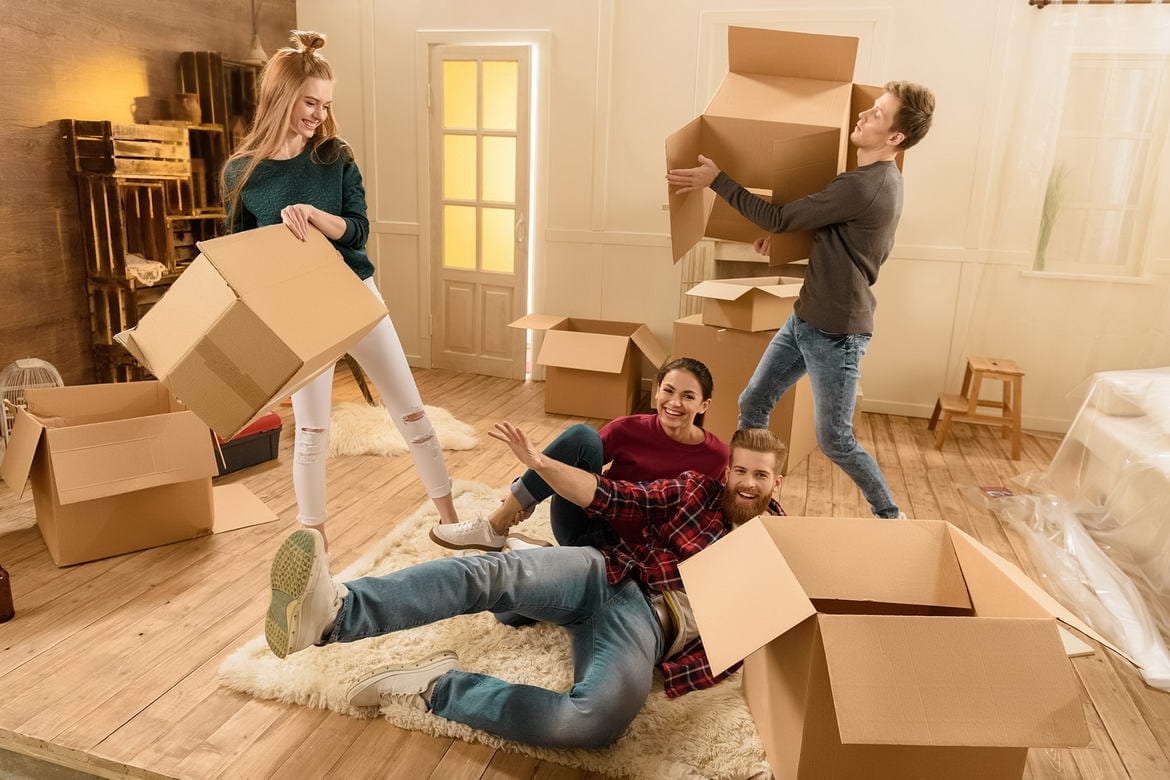 Ways to sort through your clothes
Once you've gathered all the essential packing materials and supplies, you must sort through all the clothes you decide to keep and move to a new dwelling. If you are looking to pack efficiently when moving, this process will help you keep the process neatly organized. There are four ways in which you can sort your personal belongings:
By one person. In case you are moving as a family, the clothes can be separated based on who the owner is. Everyone in the household ought to have their own set of clothing separated from the rest because they have been designated or labeled. Additionally, separating things by oneself is simpler than packing and unpacking.
Material. Sort the items according to their materials. Doing so can pack items for the move and prep your laundry.
By pieces. The same pieces can be packed together. This means that pants go with pants, shirts with shirts, etc.
Sort according to season. This is an extremely efficient and useful method because you can instantly determine what clothes you're wearing at any particular moment. In addition, the clothes you're not wearing can remain packed until you take them out of the ones you are currently using, which helps simplify unpacking.
After sorting, proceed to fold the clothes.
Making sure that you have clothes that are not hanging to move
It would be best if you folded clothes that aren't suitable to hang on hangers. These packing methods are employed to pack clothes for moving and then put them in the closet.
The KonMari method.
Flat fold.
Method of rolling military.
You can choose which method of packing you prefer. However, it must meet your needs and match the clothes you plan to bring in the future.
For clothes, cardboard boxes
Modern companies that operate locally have most clients who prefer wardrobe cardboard boxes. Movers put clothes in boxes of different sizes for cardboard boxes are considered one of the most convenient and affordable materials to pack customers' belongings. Be aware that big items are packed in big boxes unless they are weighty. For bulky yet compactly folded clothing, smaller boxes are best. To move clothes wardrobe boxes are also required. You can pack items that are not foldable. Free-standing vertical boxes are perfect for clothes with hangers, draperies, and other things you don't wish to unravel during the move.