On the auspicious occasion of Geeta Jayanti, Amity School of Liberal Arts, Amity University Haryana has been busy organizing its 2nd International Conference on "Relevance of Karmik and Indic Studies to Contemporary Education "on 24-25 December 2020 at its Gurugram Campus.
The prime objective of the conference has been to understand the relevance of Karmik and Indic Studies and to incorporate Indic values and knowledge system in contemporary education for harmonious living.
The Chief Guest of the Conference, Prof Sushma Yadav, Vice Chancellor, Bhagat Phool Singh Mahila Vishwvidayala emphasized on Ka:rmik and Indic Studies and its relevance in all the times. She emphasized on Sat Karma, Dushkarma and Punya Karma which play vital role in growth, leadership and sustainability of one and all. Encouraging the speakers and participants of the Conference, she emphasized over the need of conducting similar events in future with mutual collaboration.
On this occasion, the Vice Chancellor of Amity University Haryana, Prof P. B. Sharma said, "The concept of righteousness in society will be visible if we follow the concepts of the Gita and its action-oriented philosophy."  He emphasized on Self Discipline, Purity of Mind, Harmony with Nature, Strict Adherence to Truth, Integration of Gyana and Vigyana as in the Bhagwat Gita. He, further, stated that human life will be full of Divine Bliss and Happiness if we go along with the reservoir of our rich philosophical spiritual heritage and Indic knowledge system.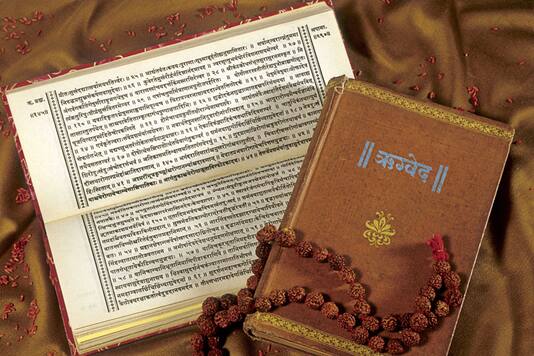 Prof. Padmakali Banerjee, the Pro Vice Chancellor of Amity University Haryana stated that, "Modern world is looking forward to Sanskrit as a language and literature for playing a vital role in well being and happiness of society." She emphasized on assimilating thoughts with actions in human life. She also encouraged karmik and Indic researchers to take their research works further and disseminate the findings of their Indic research works for the well-being of our society.
Also Read: Sanskrit Teaching's New Tryst With Destiny(Opens in a new browser tab)
In his welcome address, the Chief Convener of the conference and Director (Liberal Arts), Prof. S. K. Jha, voiced over the needs of adopting and adapting to age-old Indic values and knowledge system. He advocated that Sanskrit will ensure our Sanskar (good conduct), and Sanskar will ensure our Sanskriti (Good Culture). Paying a tribute to Prof. C. Bhuvaneswar, Prof. Jha released his edited book "The Rise of Karmikology" with 18 selected papers of Karmik researchers.
The enlightening ceremony was attended by eminent academicians like, Prof. Kamdev Jha, Principal, DAV College, Pehowa, Kurushetra, Haryana, Prof. Ashutosh Dayal Mathur, Head, Department of Sanskrit, St. Stephen's College, University of Delhi. Delhi, Prof.Ashutosh Angiras, S.D. College, Ambala, Haryana; Prof. Girish Chandra Pant, Former Head, Department of Sanskrit, JMI, New Delhi; Mr.Shaalan Najem Abdullah (Iraq), Ms. Shaima Yousif Alzaidy (Iraq),Prof Udaya Narayana Singh, Dr Supriya Sanju, Dr Sunil Mishra, and Dr Shradhanvita and many others.