The world that your children will inhabit is vastly different from the one you grew up in. The rules of the new VUCA [Volatile, Uncertain, Complex, and Ambiguous] world are vastly different from the world in which you were born as a parent.
Everything from the economy to the environment and technology has changed. In this multi-part series article, you will learn why Gen-Alpha children – the first generation born into a VUCA world – need to be curious, critical thinking, and compassionate.
The World Has Changed. Long Live To The New Rules!
The rules you grew up with are maybe fifty or a hundred years old. They were designed to just do one thing well – keep you safe, secure, and happy. Unfortunately, the old rules, like 'don't talk to strangers' and 'pick up your toys,' are no longer good enough. In fact, they have not been good enough for some time now.
Internet, communication, and social media have already changed the way we communicate with one another and how we as a society conduct business. As a result, the new world has new rules, and many old rules do not apply anymore.
The VUCA World Parent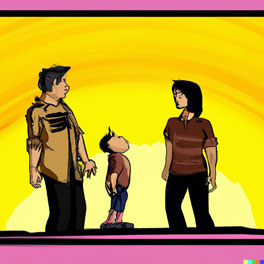 A VUCA world forces us to be highly aware and constantly critical of everything we read and see in media, social feeds, and even google searches. A VUCA world pushes us to be introspective, especially if we are a parent of a Gen Alpha.
You are indeed part of the first generation ever to raise a global generation. Thoughtful, introspective parents – like you – are raising children who may never know or relate to the concepts and values of the old world.
If you are a parent to a Gen Alpha child, you are likely to have been born between the years 1980 through 2000. As a result, you will raise your children in a world that is entirely different than the one you grew up in or what your parent or grandparent grew up in. In addition, the pace of change in the last decade was faster than ever in the history of human civilization. And that poses some unique many of challenges for you as a parent.
Gen Alpha Children and their Characteristics
Your children will be born between the years 2010 and 2025. Your children will be the first generation to be considered Gen-Alpha children. But unfortunately, these children have little understanding of peace, calm, or safety.
Every day at home, their minds are exposed to advertisements that urge them to go to the mall and buy stuff, try that unhealthy food, and drive them towards mindless consumerism. Every day at school, they see their classmates and children bringing flashy toys, boasting of their new phone gadgets and sophisticated life. These triggers include video games, toy trucks and guns, and clothing lines like Batman, Marvel, Sponge Bob Square Pants, and Star Wars.
Gen-Alpha children will bring the next wave of future leaders
These children are expected to be smarter, more competitive, and independent
They will be more confident and less conformist
Gen Alpha will be a high-performing generation that will accelerate the pace of change.
But as a parent, your question should be-
will they be outwardly focused or self-obsessed?
Will they become compassionate young adults or authoritarians
Gen-Alpha children are capable of being the best leaders in the world. But your child's future will depend on how you nurture them as parents with –
positive values,
right attitudes, and habits
to create a culture of leadership.
What Next?
You want your child to be prepared for the 21st century. Gen-alpha children need to start with these three qualities
curious
critical thinking, and
compassionate to succeed in this new world.
They would obviously need a different learning style that urges them forward with curiosity and compassion. I will cover them in the subsequent articles.
Also Read: