Semiconductor chips are these days in the news for various reasons – from shortages to geopolitics. Though not a comprehensive list, here are a set of 10 different news items from October 2021 related to the chip making industry, with a focus on India towards the end.
On a lighter note, isn't the term "semiconductor manufacturing" a misnomer? Certain materials (elements or compounds, sometimes naturally or sometimes when made into a certain form) are semiconductors and clearly these days "semiconductor manufacturing" doesn't stand for just making those. Manufacturing of semiconductor based chips (Integrated Circuits or ICs) and components is what it stands for.
If you are a beginner at this topic, this previous article in N4M may help for a jump start. Note in particular that while reporting semiconductor sales numbers, one has to keep in mind that there are three, nah four kinds of companies – pure play foundries (PPF), Integrated Device Manufacturers with Foundry service (IDM w/ FS), Integrated Device Manufacturers without Foundry service (IDM w/o FS) and fabless OEMs
1. When one talks about "foundry revenue" it includes the revenue reported (or estimated, like in the case of Samsung which does not separately report its foundry revenue) of the first two kinds of companies mentioned above. In a 28th October 2021 article, Trendforce reported that "The top 10 foundries' annual revenue for 2021 is now expected to surpass US$100 billion". That will be a historic first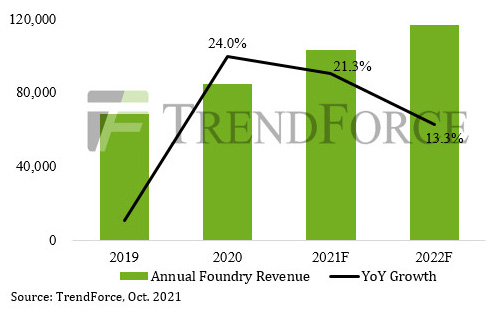 2. Earlier Trendforce had presented the reported (or estimated) 1Q21 and 2Q21 revenue numbers for the top-10 foundries and together they added up to about $47.4B, which is slightly less than the $50B mark, but now the prediction is that 2H21 revenue for the top-10 will go well over the $50B mark to make the total go above $100B. Notice that the top-10 takes 97% of the market share and even if they together come slightly short of the $100B mark in 2021, the near 3% from others will most likely make the overall foundry revenue for 2021 above that. By end-October the 3Q21 numbers for these companies may be available , those interested can look it up and see if the trend is playing out.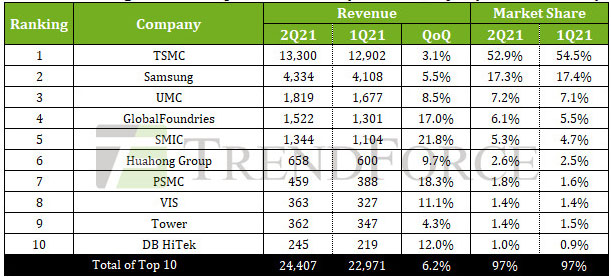 3. Some Capex numbers for 2021 and 2022 are mentioned in that trendforce report and even otherwise, through other sources, the reader may have seen multi-billion $ worth of new fab (chip manufacturing factory) plans from TSMC, Samsung and so on for months now. The latest addition to the list is Micron, who on 20 October announced "that it intends to invest more than $150 billion globally over the next decade in leading-edge memory manufacturing and research and development (R&D), including potential U.S. fab expansion"
4. Perhaps some bit of that Micron investment may be in Japan going by this this report. Note also that a 'rumour' that has been around from at least June of this year, of TSMC and Sony jointly building a fab in Japan became more official this month. Confirmation will be subject to the TSMC board approving it and that may in turn depend on how much incentive the Japanese government is likely to give – some reports indicate that up to 50% may be subsidised by the government. 
5. October started off with a report that "TSMC would not give the US Department of Commerce confidential customer information, majority stakeholder the National Development Fund said yesterday". however a 22 Oct report said "TSMC will provide data requested by the United States government by Nov. 8" While officially the data collection exercise is said to be to identify supply chain bottlenecks, it is anybody's guess that the US is worried about back door entry of Chinese companies, like the one indicated in this report. No wonder, on 24th October, Chinese sponsored medium ran this news 'warning' that some companies may be risking violating Chinese laws. 
6. While US is trying various ways to prevent China from accessing advanced technology in chip manufacturing, on its part China through its companies seem to be making their own alliances with Singapore and South Korea if one were to guess from those reports from October. If the reader is interested, here is some history and analysis of the semiconductor ecosystem and geopolitics involving the three East Asian countries – Japan, South Korea and Taiwan – and the US.
7. Those familiar with the technology side of things will know that while Taiwan Semiconductor Manufacturing Company, TSMC in short is planning to continue to use FINFETs for its upcoming 3nm tech-node, Samsung is betting on a new technology that it calls MBCFET which is a variant of the Gate-All-Around FET or the GAAFET. Going by the latest (18th Oct) reports "mass production of the first chips using TSMC's N3 (3nm) node will begin in the second half of 2022, the company will only be shipping them to an undisclosed client for revenue in the first quarter of 2023". Though a recent (7th Oct) report quoted Samsung as saying that its "first-gen 3nm products will arrive in the first half of 2022, with a more refined version due the following year" one will have to indeed wait and see if Samsung will indeed be able to do that "ahead" of TSMC and even if it does, whether it will be an "Apples to Apples" (no pun intended) comparison. It is likely that GAAFET process will take time to mature, but the learning may turn out to be an advantage for Samsung during its 2nm tech-node release which it says "is in the early stages of development with mass production (planned) in 2025"
8. There is a lot of talk – including among some government officials in India – about "futuristic technologies", including quantum computing. While it is surely good to plan ahead and if possible be leaders in such, sometimes some people tend to forget that India first needs a good base in the current technology to be able to get a good start for futuristic technologies.  This 21 October 2021 article will be a good read for those interested and let us hope that the following lines are given particular attention – "Any system that offers appropriate quantum states can theoretically serve as the basis for a quantum computer. In practice, though, the integrated circuit industry's ability to manufacture large numbers of nearly identical, nanometer-scale elements has made semiconductor quantum dots a leading contender. Silicon quantum dots in particular were the focus of several papers at this year's VLSI Technology Symposium. Silicon is of interest because, unlike III-V semiconductors, its most common isotope, 28Si, has no nuclear spin"
9. How about a video now ? Here is a talk given on 18th October by Erez Imberman, VP at Tower semi (Israel) where in the first half (12 mins) he has lot of info on Analog centric fabs in particular & in the second half gives a summary of his perspective on #FabInIndia for #atmanirbharbharat
10. For those who may have been wondering, what is the latest on establishing commercial fabs in India, I end with one of my own detailed article, published on 21 Oct 2021 in Swarajyamag titled "Facts, Fallacies And Future Of India's Efforts To Have Commercial Chip Fabs"
Also Read: