German strategist Dr. Manfred Kern from AgriExcellence delivered the webinar on "Plant based Protein by 2025/2050″ to mark the World Food Day 2020.
Amity Institute of Biotechnology (AIB) and Amity Institute of Integrative Sciences and Health (AIISH), Amity University Haryana organized an International Webinar in collaboration with International Foundation for Sustainable Development in Africa and Asia (IFSDAA) – African Asian Studies Promotion Association (AASF) – Germany, Society for Sustainable Agriculture & Resource Management (SSARM) – India on "Plant based Protein by 2025/2050″ on account to celebrate the World Food Day 2020. Prof. R. K. Behl, Global Coordinator IFSDAA/ SSARM waspanelist from Jagan Nath University Haryana.
Prof. Rajendra Prasad, Dean, Faculty of Science, Engineering and Technology, AUH welcomed the eminent speaker, panelist and participants of the webinar.The objective of the webinar wasto discuss the current and future perspectives on plant based protein sources. Dr. Manfred Kern, AgriExcellence (Germany) on ""Plant based Protein by 2025/2050". Dr Kern is the Mainz futurologist and strategist and shared his view on this innovative concept for future of agriculture.
Teachers, scientists, research scholars, students, entrepreneurs, and NGOs joined the webinar and enriched their knowledge and found orientation towards the plant-based protein.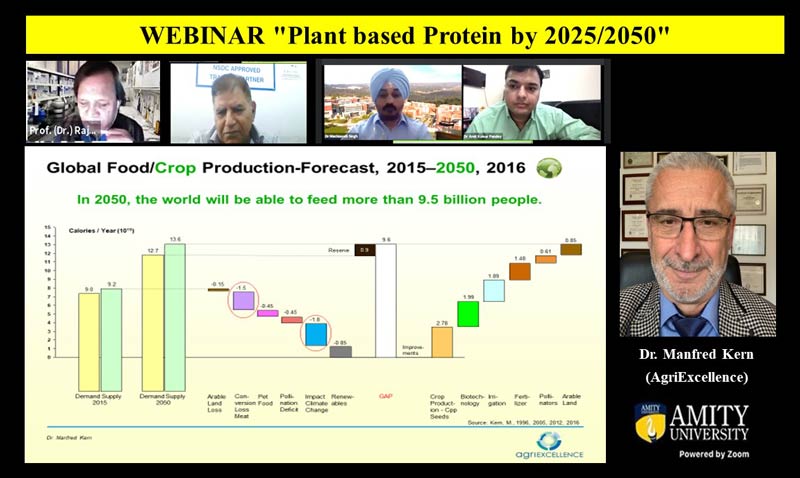 Dr. Kern communicated that between 2015 and 2050 more than a doubling of crop production, a nearby doubling of meat production, a tripling of plant based protein production (food & feed), and a tripling of fruit and vegetable production is necessary to feed 9.7 billion people living on earth in a healthy way.
The vote of thanks and closing remarks were expressed by Dr Machiavelli Singh, Convenor- Moderator and Dr Amit Kumar Pandey, Coordinator thanked the guest speaker, panellists, organiser, speakers, and participants of the webinar. In total 538 participants registered for the webinar from various prominent institute/universities from India The patron of the webinar was Prof Rajendra Prasad, Dean Faculty of Science, with team of organisersDr Machiavelli Singh; Dr Manju Sharma Associate Professors andDr Amit Kumar Pandey; Dr Sarika Chaturvedi, Assistant Professor, Amity Institute of Biotechnology werepresent for active coordination and successful conduct of the webinar.
The YouTube Link of the video:
https://www.youtube.com/watch?v=N_dEL7gpXBM&t=946s