Gone is the era of hushing up police excesses, from fake encounters to the whims of a few egotist police officers who could get away with everything and anything in the line of duty. The advent of technology and mobile telephony has today armed each and every individual with tools that only established media once had exclusive rights to. Now even a Rickshaw-wala in the remotest of UP towns can use a phone to capture any atrocity that might have otherwise gone unnoticed from the world.
With social media platforms like the facebook, twitter and youtube making the access to the global world withing easy reach, one doesn't have to depend on one's luck or approach for the Main Stream Media to pick up a story to propagate any more. Almost daily we come across thousands of videos and multi-media clips that captured a wrong being committed at just the right time and the people out of inquisitiveness making them go viral in a matter of a few hours, if not minutes.
It was somewhere in Late 2013 that the young media savvy Chief Minister of Uttar Pradesh Mr Akhilesh Yadav also realized the need of the hour and set about to equip the Uttar Pradesh Police with modern techniques citing the changing nature of crime pattern. In pursuance of the same realization, Akhilesh also declared and pledged to strengthen the UP Police force on all fronts and announced measures from operational to welfare of the Police. These ranged from setting up state of art control rooms in Lucknow, Ghaziabad and Allahabad to increasing the meal allowance and providing CUG sim cards to all sub-inspector level police officers.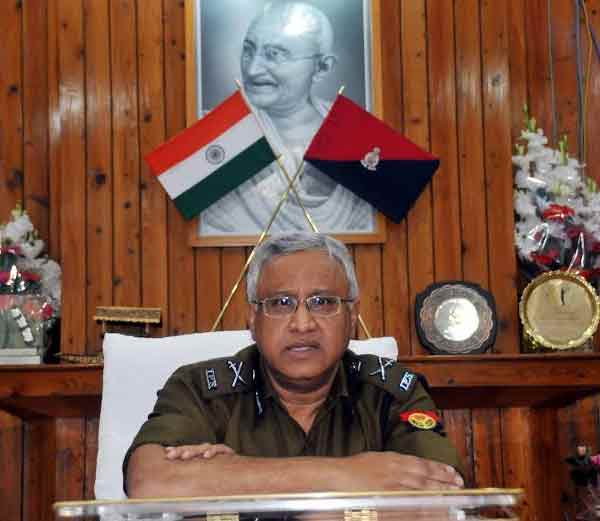 On 1st Jan 2016, the1984 batch IPS Officer Syed Javed Ahmad was announced as the new DGP UP. He was previously working as the DG (Railways) in Lucknow. Javed Ahmed's appointment was seen as a foresighted decision on the part of the Chief Minister since he was chosen above 15 senior bureaucrats for the prestigious post and is expected to head the department till 2020, up to his retirement. The choice of this new appointment provided a big boost to Akhilesh Yadav's earnest drive in the direction of modernisation of Uttar Pradesh Police. Immediately after his takeover, Mr Javed floated his official twitter handle by the name @javeeddgup
As the old saying goes, "Jaisa Raja Vaisi Praja" i.e. "As the king so are the subjects", the UP Police followed suit and up popped innumerable twitter handles starting from state level to most districts and townships. The state twitter handle being @UPPolice also provides the list of official twitter handles of UP Police (The list provided at the end of this article for reference).
Infact since the takeover by Mr Javed as DG, the entire state has seen a perceptible social media revolution. Although Mumbai Police was the first to have taken the help of social media but visibly, it has been overtaken by its counterparts in UP. Social media has in the process become one of the important tools that is being utilized by the state not only to govern but also to clean up the image of its age old dilapidated police force that smacked of dabangaism into a real time, tech savvy professionals doing their duty with utmost sincerity and dedication.
The reforms so started by Akhilesh Yadav in 2013 and the subsequent booster dose that it received in the form of DG Javed has gone a long way in transforming the once infamous Uttar Pradesh Police. To support this argument, innumerable instances have come to light wherein instant relief is provided by the UP police through its 24×7 manning of the social media handles. Infact the on duty personnel have been found to be real courteous and ever willing to help someone in need.
The result is that UP Police gets showered with praises from across the spectrum of society. Recent interaction with an old time businessmen, Mr Rajneesh who once used to be a vocal critic of the Police, drew an unexpected response. He went on to say, "Am amazed at the way and pace at which our Police has adapted to the social media revolution. While earlier one had to waste entire days to approach a senior officer, now its just a click away and you even get an immediate response and remedy." He added, "Recently a theft happened at my shop and out of sheer frustration, I happened to tweet, a sarcastic one at that, to the UP Police handle. Was literally knocked out to see a PCR Jeep in front of my shop in no time. Since then, i can only say that our Police is doing a marvellous job in imparting Justice to the common people of my district, Aligarh"
A recent case wherein a student from Lucknow was reported killed, and the public wasn't satisfied with the police action. The tweet "लखनऊ-आशियाना से लापता छात्रा की हत्या का मामला,20 दिन बाद भी छात्रा के हत्यारे पुलिस गिरफ्त से बाहर,नाराज लोगों ने दिया 72 घंटे का अल्टीमेटम" was highlighted to the DG Mr Javed and cc'd to the UP Police twitter handle as well. Prompt action followed up with instructions being issued to the Lucknow Police who in all humbleness further acknowledged the plea and confirmed that the investigations were being carried out. Such examples reflect the sincere and "mean business" approach of the UP Police and this has started reflecting across most of the state.
@lucknowpolice कृपया सूचनार्थ एवं आवश्यक कार्यवाही हेतु। @igzonelucknow @diglucknow https://t.co/S6H1J5vM6f

— UP POLICE (@Uppolice) January 8, 2017
-investigation going on

— POLICE COMMISSIONERATE LUCKNOW (@lkopolice) January 8, 2017
Similarly a video of a girl being beaten up with sticks by local bad characters that went viral and was brought to the notice of the police by N4M Media, was promptly followed up and both the culprits were nabbed within 24 hours of it being reported.
A List of all official twitter handles of UP Police pinned to the top of the UP Police handle @UPPolice is reproduced here for information and easy access to the masses:
List of all official @TwitterIndia handles of #uppolice #TwitterSeva @CMOfficeUP @UPGovt @rsjaitly @Raheelk pic.twitter.com/KpEzgYds4k

— UP POLICE (@Uppolice) September 8, 2016
In the end one can only say, that, "Where there is a will, there is a way". By voluntarily deciding to board the technology bandwagon, UP Police has literally transformed not only its image for the better, but its professional demeanour as well. In the process, as one can gauge, Uttar Pradesh Police has outshone its counterparts in other states in professionalism and promptness. To the critics, a black sheep or two, should not make us judge an entire crowd. We wish UP Police the 'Very Best' and 'Happy Policing' in all times to come.