There has been a lot of buzz around bloggers, YouTubers, Tik Tokers, Instagrammers, etc., and there is no doubt that the definition of marketing has changed in the generation of millennials or the Gen 'Z'. The year 2020 pushed businesses across sizes to experiment with digital solutions since all the activities, from attending concerts, birthday parties, fitness sessions, etc., moved the physical realm to digital.
After the COVID-19 induced lockdown, with shoots on hold and people stuck at home, brands realized that the influencer marketing approach is well-suited in such a time when the audiences are looking for some inspiration, DIY videos, new recipes, focusing on self-care, etc. This poses a good opportunity for brands and influencers to engage with audiences by adding impactful messaging. Brands realigned their strategies, opened up their budgets for digital media to leverage the rising demand for influencer marketing.
Indian Audiences And Consumption Of Media
Indian audiences today are watching more online videos than ever before. Studies have shown that consumers who are working from home has dramatically led to a 60% increase in the volume of video content watched globally. The number of live video sessions conducted on social media platforms by content creators also hiked in 2020.
There has also been a shift in perspectives and communication. Audiences are driving away from superficial content to a more meaningful, purpose-driven conversation. More content creators and brands have started talking about the causes that they truly care about.
Influencers also turned towards alternative revenue streams in the first of the year, like selling merchandise or launching direct-to-consumer products. As a result, COVID-19 has spawned a strong growth in influencer marketing, and creators have cemented their position in boosting consumer trust in 2020.
Influencer Marketing Size In India
Let's take a look at the social media potential for brands and advertisers in India.

With such a massive number of people using platforms like Facebook, Twitter and Instagram, brands can easily reach out to them by creating a solid presence on those platforms. Research shows that out of the 200+ Million active social media users are 12+ Million college students with the highest consumption of video and stories.
Total number of internet users: 462+ Million
Active social media users: 200+ Million
College students using social media: 12+ Million
High time to post: 6pm to 10pm
The highest traffic received from regions of Mumbai and Delhi
The highest content consumption is that of video and stories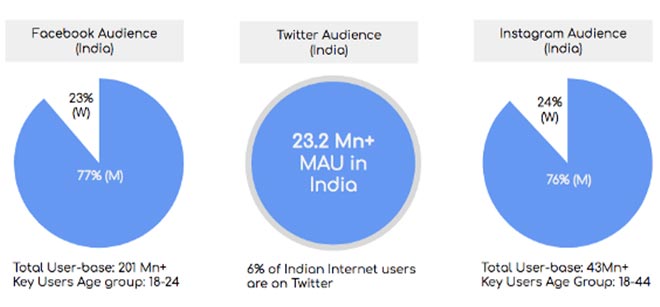 If you are a brand, advertiser, or marketer exploring the influencer marketing platform, this data (image below) will provide a strong validation to add influencer marketing in your campaign strategy to engage with new users, increase sales or revenue for your businesses or brand.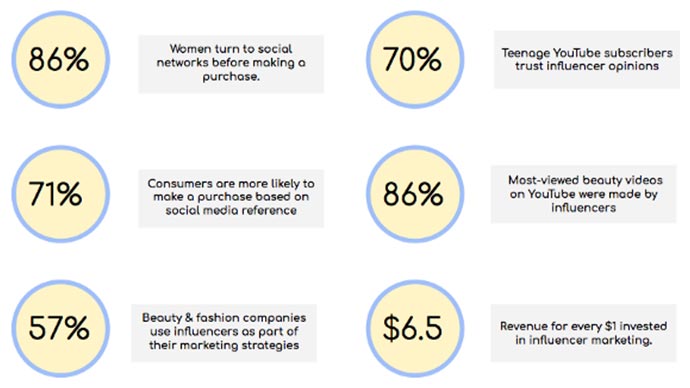 However, one of the most critical decisions is to decide which channel is the most effective to get the best ROI. This decision is highly dependent on the kind of brand & market that is catered to. Shown below are the industries that are making the most of influencer marketing by using it as one of their central marketing channels for sales and promotions. By making the most of these and some other tactics you can increase your social media engagements.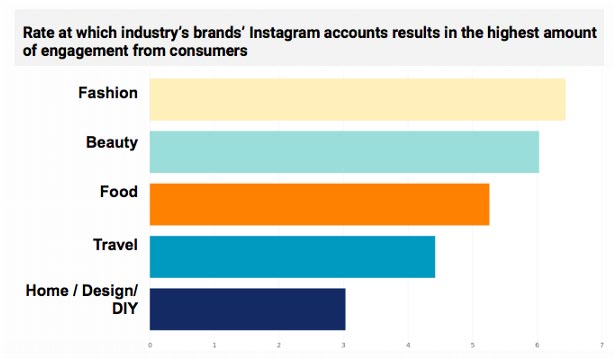 Notable Highlights of Influencer Marketing for 2021
Despite the uncertainties caused by the pandemic in 2020, Instagram is still an effective form of marketing. So much so that it is not looked at as a part of the mainstream marketing mix. Those actively participating can clearly see the effectiveness of influencer marketing.
Here are a few notable highlights to consider –
The Influencer Marketing Industry is Estimated at a Growth of Approx $13.8 Billion in 2021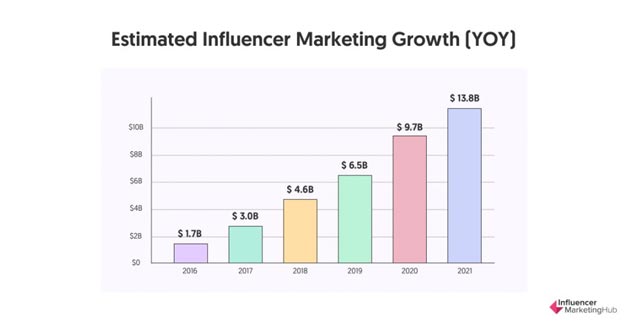 People today spend a huge amount of time online rather than previously, and businesses have had to upgrade their websites to cope with this increased demand. From $1.7 Billion in 2016 to a market size of $9.7 Billion in 2020, the influencer market is said to jump to $13.8 Billion in 2021.
Also Read: Top 10 Nutritionists To Follow On Twitter
Increase In Marketing Focused Agencies and Influencer Platforms Than The Previous Year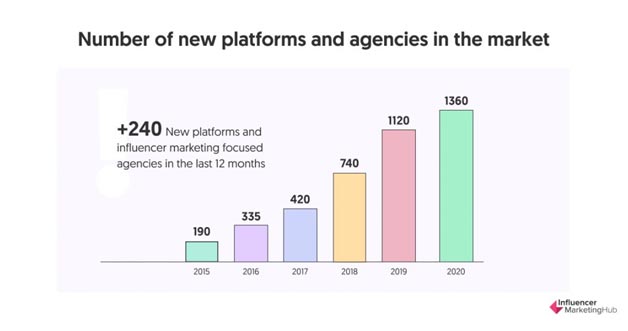 Influencer marketing has attracted the support of companies and apps to simplify the process for both – brands and influencers. Though the rise in influencer-marketing platforms and agencies is lower than that of last year's 380, it is still the largest increase over the years and brings the total influencer agencies and platforms to 1360.
Increase in Engagement Rates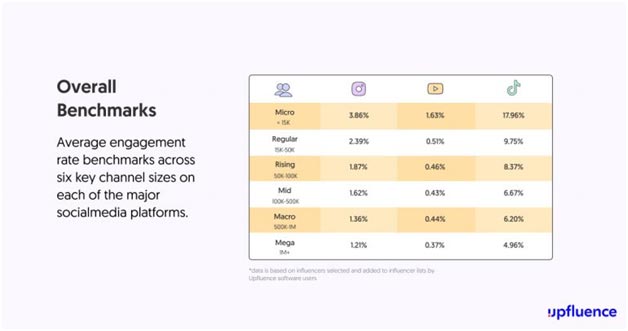 Recent research by Upfluence shows better engagement rates for smaller influencers rather than larger ones. Micro-influencers on Instagram have an engagement rate of 3.86%. What's more, is that micro-influencers also receive a whopping 17.96% engagement on TikTok as compared to 4.96% for mega-influencers.
Influencer Platforms are Mostly Used for Influencer Discovery and Communication.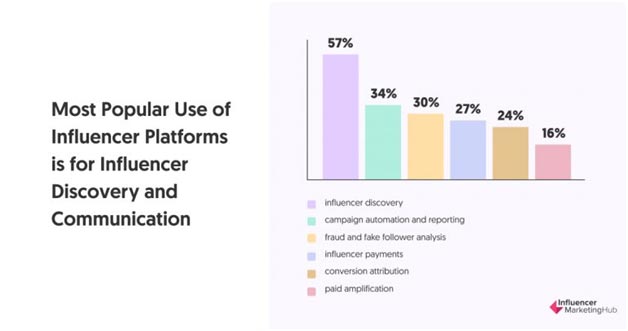 Influencer platforms were focused on offering tools to help with influencer discovery, and it is still the most popular use of influencer platforms. Some other uses of influencer platforms are campaign automation and reporting, fraud and fake follower analysis, influencer payments, conversion attribution, and paid amplification.
Future Opportunities
It is quite evident that influencer marketing is here to stay. But what does the future hold? The constantly changing algorithm of social media platforms has given rise to several new trends. From the way the influencers are chosen to the way content is curated, everything has transformed the influencer marketing industry in India. There are also many social media management tools that help you keep up with your audiences.
1. Storytelling approach seems more appealing
To grab an audience's attention, it is necessary to create content that offers value. India offers a wide range of audiences which makes it extremely difficult to keep them engaged. The storytelling approach works best for the Indian influencer market because it not only tells the audience about the brand but it also conveys sentiments in the right manner.
2. Video content fetches great engagement
The best way to overcome the problem of low attention span is to curate video content. The newly added features on social media platforms make it easy to focus on video content. Opting for IGTV, Instagram stories, YouTube stories, Facebook stories, etc., can help add more to video content.
3. Micro-influencers for influencer marketing India
Though initially audiences were smitten by celebrity influencers, lately, micro-influencers have been taking over. Micro-influencers in India help promote brands easily because they enjoy credibility in their niche. Social media users look for micro-influencers more authentic as compared to mega influencers. What's more, is that micro-influencers are more relatable to the general audience, which makes them apt for brand campaigns. Many brands opine that collaborating with micro-influencers has given their brand higher engagement.
4. Instagram is the ruling influencer marketing industry
Instagram is the inevitable social media platform for influencer marketing since it has a larger audience base. Mostly brands rely on Instagram marketing to promote their products and services because Instagram enables brands to curate a variety of content.
5. Make the most of user-generated content
Social media users are not simply consuming content from brands. But they are also curating content. Influencer marketing in India has another element that brands need to look forward to, which is user-generated content. Such an approach also signifies that brands value their audience's inputs and efforts.
These opportunities and aspects of social media are here to stay and can make a huge impact on a brand's influencer marketing strategies.
From The Archives:
Influencer Marketing Trends
Influencer marketing in India is rapidly changing with new trends and technologies. Brands across categories are now utilizing influencers as a tangible marketing and distribution channel. They are transforming themselves, keeping influencers integrated into their strategy.
Here are a few key trends that are shaping the Indian influencer market.
1. Growing significance of micro-influencers
In the current digital age, brands are witnessing emphasis on micro-influencers. Brands are able to bring authenticity to their campaigns by using micro-influencers. This is being adopted rapidly as a practice, with brands across niches and industries as they try to scale their micro-influencer marketing spends.
2. Network-based approach
Initially, brands were more focused on utilizing influencers for individual brands and presenting them as the face of the brand through frequent integrations in marketing campaigns. But as the market changed, brands are now taking on a network-based approach by using a network or a group of influencers with whom they can collaborate collectively and target audiences better. It allows brands to localize the content and collaterals.
3. Long-term advocacy
Brands are now making the shift from transaction-based collaborations to long-term arrangements. Some studies have shown that using advocates instead of an influencer improves customer trust in the campaign as much as five times. Influencers who are genuinely interested in the brand also help craft a compelling story as compared to presenting it as another advertisement. Brands also benefit in monetary terms as the cost per deliverable goes down in case of long-term advocacy.
4. Rise of nano-influencers
Nano influencers are a tier below micro and macro-influencers in terms of followers sizes with less than 5K followers. However, they provide the highest amount of engagement and intensity of influencer per follower. In many cases, influencers have a cult-like following, which is a perfect approach for activities like launching new products or brands, experimentation with campaigns, and feedback from audiences.
5. Increase in video content consumption
With digitization growing at a rapid pace, the ways to internet and content consumption have changed. This shift is highly tilting towards higher video consumption. A good video should not come across as an advertisement. Video consumption leads to a large value creation scope for influencer marketing. Influencers can craft real and authentic video stories for brands to help them distribute them through their channels. Your social media content should aim at getting more likes and shares.
Influencer Marketing Examples
1. Kaya Skin Clinics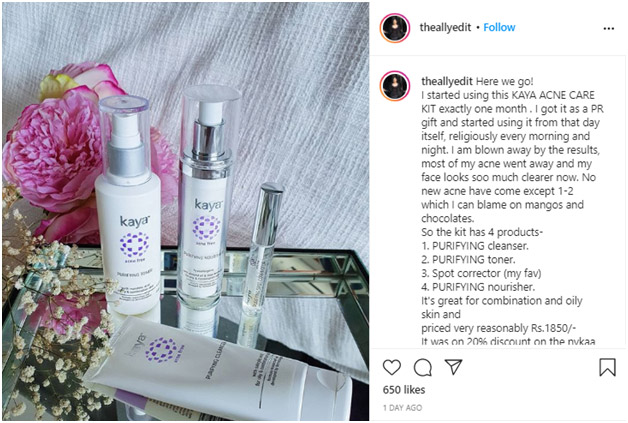 Kaya Skin Clinics has active influencer marketing campaigns as the brand tries to rope in influencers from the beauty niche and skin experts to promote its products and services. Apart from the brand also hosts informative sessions to solve their audience's skincare queries.
2. Picchika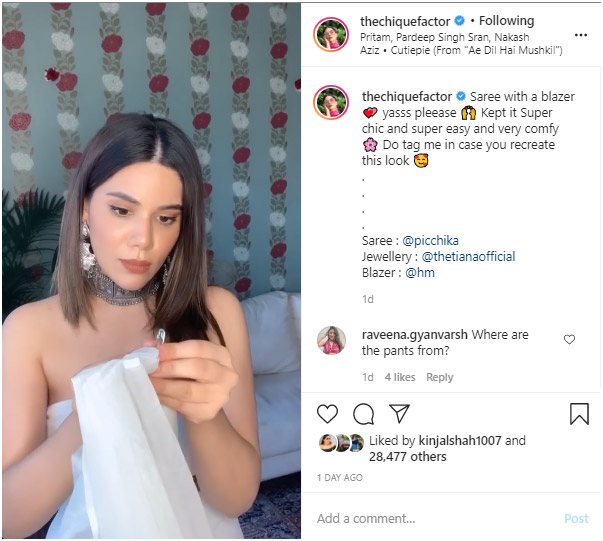 This popular brand offers hand-painted floral sarees and is extremely popular due to its engagements with celebrity influencers to micro-influencers. The brand also shares posts that give valuable information to its audience and posts its clients with its products which have also helped them gain credibility.
3. The Man Company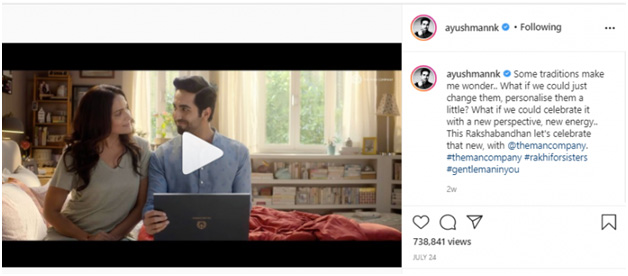 The Man Company provides premium products for men's grooming and has an amazing presence on Instagram. The brand partners with celebrity influencers to promote its products.
4. Lunch Box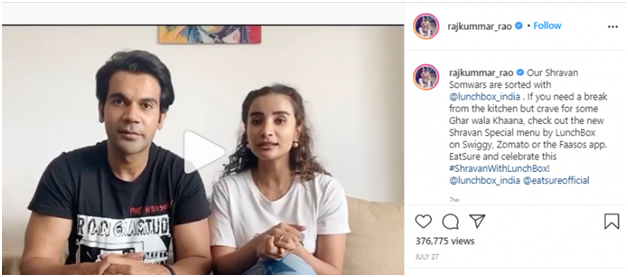 The lockdown has given birth to many homegrown brands, and one such brand is Lunch Box. The brand offers home-style meal combos that can be delivered to one's doorstep. Lunch Box has gained a lot of popularity and won fans over in the lockdown. It also partners with influencers from various niches to promote its services.
5. Big Muscles Nutrition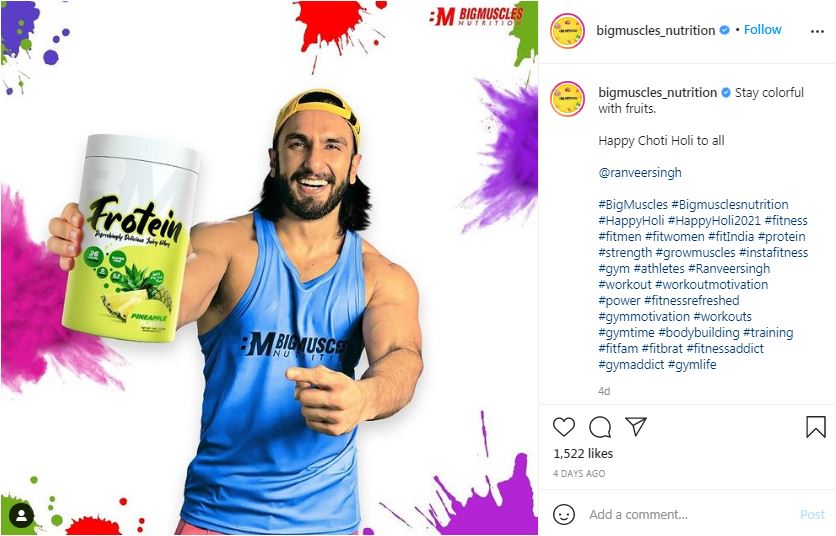 The Indian influencer market has also seen the rise in fitness brands. The fitness industry is highly dependent on influencers in India. Big Muscle Nutrition collaborated with celebrity influencers to market their product on Instagram.
Conclusion
Influencer marketing is definitely going to be a game-changer in the near future. The year 2020 provided a great platform for novice content creators, and brands made the most of it by leveraging their skills and popularity. A massive trend that is being looked forward to is how brands will merge content marketing, influencer marketing, and social media marketing.
Looking forward, brands will need to focus more on finding and partnering with influencers who share similar values and will enter into long-term relationships with them rather than on a contractual basis. Podcasts are also expected to be the next big thing, and micro-influencers will emerge in huge numbers which do not have many numbers but enjoy popularity amongst a niche audience.
Such influencers will ultimately help brands find their foothold within a specific group of people who would easily align with the goals of the brand. The best part of such micro-influencers is that their audiences frequently engage with them.
How do you think the events of influencer marketing will unfold in the future? Share your perspectives in the comments below!