India's Regional Airline Zoom Air (officially Zexus Air Services) has had a tumultuous journey so far. Established in April 2013 by Surender Kumar Kaushik, Zexus Air received it's No Objection Certificate in 2014 from the Indian civil aviation ministry and in September 2016, the airline took delivery of its first aircraft, a Bombardier CRJ 200. With 'Air Operator's Certificate' coming through on 3 February 2017, the Airlines began operations on 15 Feb with a debut flight from Delhi to Durgapur via Kolkata. At it's peak in 2017, Zoom Air flew to 7 destinations in India with two CRJ 200's while 5 more aircraft were slated for induction over the coming months.
With the Indian skies having already seen CRJ 200 operations (Jetlite) in the past, trained manpower and license holders (Pilots, Engineers, Crew) were easy to come by and thus Zoom Air apparently looked all set for a very promising future in the Indian skies. Ambitious Phase 1 expansion plans of the Airlines had Delhi as hub connected with Lucknow, Ranchi, Aizawl, Aurangabad, Chandigarh, Dharamsala, Dimapur, Kulu, Hyderabad Int'l, Jorhat, Mumbai Int'l, Shillong and Srinagar.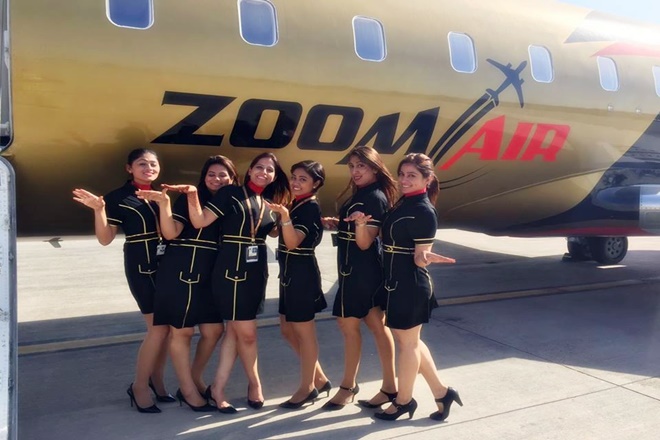 The long gestation periods for establishing an Airline from scratch, are well known. Coupled with this, the Indian business environment and the time taken to achieve economies of scale, needed a much mature handling by the Regulators. However as the airlines struggled to keep pace with its 02 aircraft even as another 5 remained in pipeline for induction, a somewhat high handed approach by the Indian Regulator delivered a knock out blow to the Airlines.
In July 2018, the operating license of the airlines was suspended by the Indian Directorate General of Civil Aviation (DGCA) citing safety concerns. Thus even before the Airlines could achieve the sustainable mass (was expected to attain economies of scale with its planned 7 aircraft) all operations were suspended until 31 October 2019.
With momentum having been broken by the untimely suspension of operations, it became a herculean task for the Airlines to get back on track. 'Flight Safety' is one important povision that can't be bypassed or tweaked as invoking it helps prevent many an air incidents/accidents.
Furthermore as luck would have it, came the Covid 19 that left even the best of Airlines across the world gasping. Notwithstanding the devastation, a visit to the Headquarter of Zoom Air in Gurgaon somewhere in Jan 2022, left us awestruck. Worth appreciating and kudos to the zeal and resilience shown by Zoom Air and it's staff, that despite the adverses suffered, the airlines continued to hold on to its manpower through the entire period of it's grounding and the suspended operations due to Covid 19. With a full fledged and well qualified Quality Control Manager Mr Selvraj, pursuing vigorously with DGCA for the restoration of the Air Operations Cert, the Accountable Manager continued to steer the company while holding the flock together.
But then as the saying goes, "Time is of Essence", the delay in resumption of operations too started taking its toll. As has been seen in earlier cases as well, some staff barely spares a thought about the circumstances that the business is going through. With Nil revenues coming in, while outflow of funds continues, there are times when salaries get delayed or some perks get with-held. Empathy, trust and cooperation between the staff and management plays a role in such circumstances to tide over such trying times. However there is always one odd (wo)man out who would swim against the tide while having valid reasons to do so.
Since the initiation of NCLT proceedings can be set in motion by even one creditor, so in this case too, an application was filed under Section 9 of the Insolvency and Bankruptcy Code (IBC). Capt. Samuel Ahmad Tarig Omer Ahmad, an expat pilot on contract with the Airlines, cited that Zoom air failed to make payment of Rs 54 lakh in salaries to him, the operation creditor.
As per the insolvency petition, Samuel joined in September 2016 as Type-rated Commander CRJ Fleet –Zoom Air at a monthly remuneration of $6200 per month.
It was claimed that the corporate debtor had defaulted in payment of salary in November 2016, January to March 2017, January to June 2018 and again in August 2018.
The case, after due deliberations, attracted the Tribunal's nod on Mar 25, 2022. Thus on March 26, 2022 in a notice to the creditors, Administrator Aashish Gupta on behalf of the Tribunal – a quasi-judicial authority that deals with the winding up of Indian companies, ordered the commencement of a corporate insolvency resolution process against Zexus Air Services Private Limited.
However, as they say, "Not everything is Lost", the Insolvency initiation could even turn as a blessing in disguise for the Zoom Air and it's steady staff.
The insolvency regulator as per notified rules gives the Promoters and other Stakeholders 90 days after the commencement of Insolvency proceedings to re-take control of the company through agreements with Creditors.
Since Insolvency is a 'financial state of being – the inability to pay off debts', so selling off partial or full stake in the business is a viable solution in such circumstances. More so in case of Airlines wherein Investors and those with interests in setting up an Airlines in Indian skies get easy access to registration marks and Call signs that otherwise are not easy to come by and need the full procedural cycle. Zoom Air with its entire operational paraphernelia intact, is an ideal choice that could easily be recommended for Investment or Acquisition by any stalwart in the field like Grant Thornton and Begbies Traynor
There are umpteen number of examples wherein companies that come under the hammer have been able to retain their mass in some way or the other. Recent example that stands out is that of the much tainted DHFL. The NCLT after long drawn out proceedings, finally ordered merger of DHFL with Piramal Capital and Housing Finance Ltd (PCHFL) and the name of the company changed from DHFL to PCHFL.
The estimated date of closure of the insolvency resolution process for Zexus Air is set as September 21, 2022 – 180 days from the commencement date. However in case of recoveries (which are roughly around 50%) it has been found that this timeline has been stretched much beyond the envisaged 180 + 90 days.
The Insolvency and Bankruptcy Code (IBC), completing 6 years of promulgation in June 2022, has been a boon for many a struggling businesses that had no other viable means of winding up. It had to be understood that it's no crime to do business and not every business makes money. Some simply go down due to unfortunate circumstances despite the best of struggles as we see in this case of Zoom Air that is now up for grabs, to say the very least.
The Covid 19 wreaked havoc not only on human lives but also took its toll of businesses globally. Now with the pandemic almost under control, Airlines are doing brisk business and making up for the losses sustained over the past 2 years. It remains to be seen, whether Zoom Air that too was on the verge of launching it's operations, will be able to overcome this hurdle on it's own or with some external facilitation and pare its losses and zoom into the blue bright skies once again.