A tubular plate battery can be defined as a lead-acid battery that is generally big in size when compared to a flat-plate battery. It is considered to be the best battery for inverter because it is suitable for areas with longer and fewer power cuts like a tier 2 or tier 3 city or the city outskirts.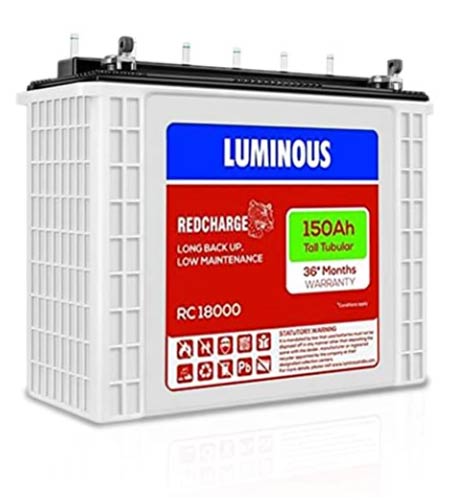 A tubular battery is considered to be the best battery for an inverter because these batteries are ideal for long power backup requirements and have a longer service life. These batteries require minimum maintenance and need fewer water top-ups. They are extremely reliable and come with a longer warranty period when compared to a flat plate battery. Tubular batteries come in different container sizes, and you should choose them based on the space that you have available to store the inverter battery.
There are 2 types of tubular plate batteries:
Tall Tubular
A tall tubular battery can be defined as one that is larger in height when compared to a short tubular battery and a flat plate battery but lesser in width. It provides a moderately longer backup time and is suitable for homes where storage space is not a constraint.
Short Tubular
A short tubular battery is smaller in height but wider than a tall tubular battery. You can easily store them.
Listed here are benefits that you can enjoy using a tubular plate battery:
A tubular battery comes with a longer service life,provided they are well-maintained. Hence last longer.
They are extremely reliable compared to a flat-plate battery.
A tubular battery can efficiently and effectively run sensitive and heavy electrical appliances.
The spine of the tubular plate battery is made with the help of a high-pressure casting method that offers long life to the battery even under high temperature and rough usage.
These batteries come with a long standby life in comparison to a flat-plate battery.
They can function consistently under any type of condition, and this makes them an ideal choice for sensitive applications.
Tubular batteries need low maintenance, and Less water topping up is required in comparison to flat plate batteries
If you are still not convinced about tubular batteries, leading brands like Luminous offer you an extensive range of tubular batteries with some unique and best-selling features. Some of the features have been listed down below:
It is a smart energy storage device
Better charge acceptance and long back up makes tubular battery the next generation battery
Tubular charge technology is ideal for deep-discharge application
It is the best solution for areas that experience long and frequent power cuts
It requires minimum maintenance cost
It comes with a special space-friendly low height container
Because of these remarkable features, tubular batteries are the best battery for inverter. Reputable brands such as Luminous provide a comprehensive range of tubular batteries that are carefully designed to suit your household needs. Their batteries are made using robust tubular plates. High durability with sealed plastic housing is another unique specification of a tubular plate battery. It is a value for money investment that promises long life and need less maintenance.