You Smile, I Smile: Yesterday while flipping pages and sipping coffee in Cafe Coffee Day, two older women walked inside the store for purchasing coffee powder at their display counter.
My attention did move from flipping pages to the two women because of something that they wanted from the waitress. The coffee powder packs were given out in a paper cover and not in carry bags. This would mean holding them in hand but that seemed difficult for them, could be, because of their extreme fragility. So they kept asking the waitress to arrange one carry bag for them!
Unfortunately, customers believe that shop attendants are bound to oblige to all their requests, howsoever vague these may be. The waitress too, kept moving the drawers in and out as if some miracle would happen. But that was a far cry! She finally started growing restless seeing the two women continuing to waiting endlessly in eagerness with their eyes following her movements continuously. They seemed unhappy with this inability of the waitress to produce at least one carry bag.
Sipping coffee took my attention to the cover that I was holding, having purchased books a while ago. Two things for a possibility – should I hand over the cover and receive all the appreciation or not to lose it?
In a moment, my conscience prompted me to call for the attention of the waitress. I handed over the carry bag to the waitress, allowing her to do the honours of handing it over to the two women without an expectation of even a 'thank you' in return. The Waitress started brimming all over with a smile on the sudden miracle and handed it over to them.
Frown faces lit up! They thanked the waitress and it seemed their eternal faith of 'customer is king' was restored . The waitress bade goodbye, having been relieved of the tension and embarassment when one of the two women suddenly stopped, looked her in her eyes and asked, "how did you manage to get one?" Without any hesitation or pretence, the waitress pointed towards me. They both turned towards me and nodded with a smiling 'thank you' gesture. I lifted my thumb and gestured "we all won". I walked out of the cafe shop thinking 'I smiled because they smiled'.
Also Read: Must Know – Practical Tips and Tricks To Read People's Body Language
Written by: Santosh Avvannavar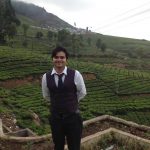 About the Author: Santosh Avvannavar started his career as a consultant and Soft Skills Trainer. He is presently working as Chief Commercial Officer at QtPi Robotics. After his formal college education from NITK, Surathkal, he worked as a researcher at University of Eindhoven, University of Twente, and Indian Institute of Science, Bangalore.
He was also the Placement President while working at IISC, Bangalore. He has over 25 publications of mostly research documents in national and international journals in the field of chemical and environmental engineering. He has also authored sixteen conference papers and regularly written articles for a national and worldwide daily paper in the field of environmental engineering. He also works as an advisor for different organisations.
He has given talk for TV and Radio on Gender Equality. His book She: Ekla Cholo Re has become an acclaimed writing. He also dabbles in fiction writing and is the author of Adhuri Prem Kahaniya; Dear Wife, Your Husband is not a Superhero, Second Heart and Get a Job WITHOUT an Interview; Be A B.A.; Surrogate Author; Title is Untitled; Black, Grey and White; The Departing Point; God's Table, Umbilical Cord, She: Ekla Cholo Re, BUGman and He Who Dreams.
He likes to devote his personal time in writing for a website, namely the Amrita Foundation for HRD. He has conducted seminars and training sessions for more than 55,000 people in India and abroad over the last seven years.