Everyone loves summers. The sun is out, and you have a plethora of cute outfit options to choose from. But, the real dilemma begins during the chilling winters.
As snow piles up on your pavement and you can feel the cold breeze against your skin, the mere suggestion of getting out of your comfy pajamas and into a pretty dress feels like a nightmare.
During winters, you are constantly torn between looking stylish and feeling cozy. After all, there is no way you can pull off a trendy look while ensuring that you don't freeze, right? Wrong! It turns out you can still be a fashionista and be warm and comfortable.
Here are six ways you can achieve the seemingly impossible.
What's the most practical way to dress up in winters? Layering up. We know what you are thinking. There is no way piling on different layers of clothing can look cute. Well, it turns out that you can look trendy when layering up.
How do you do so?
Simple! The secret is to find the right items of clothing which can layer very discreetly under your trendier pieces. This will help you stay protected against the chilly weather while still looking great.
For example, wear an under jacket, a sweater and then hide it all with a lightweight vest or puffer. Here, the star of the show will be the vest, whereas the jacket and sweater will provide you both with protection. So make sure the outer layer is the trendiest piece you can find.
2
Leather Jackets Never Disappoint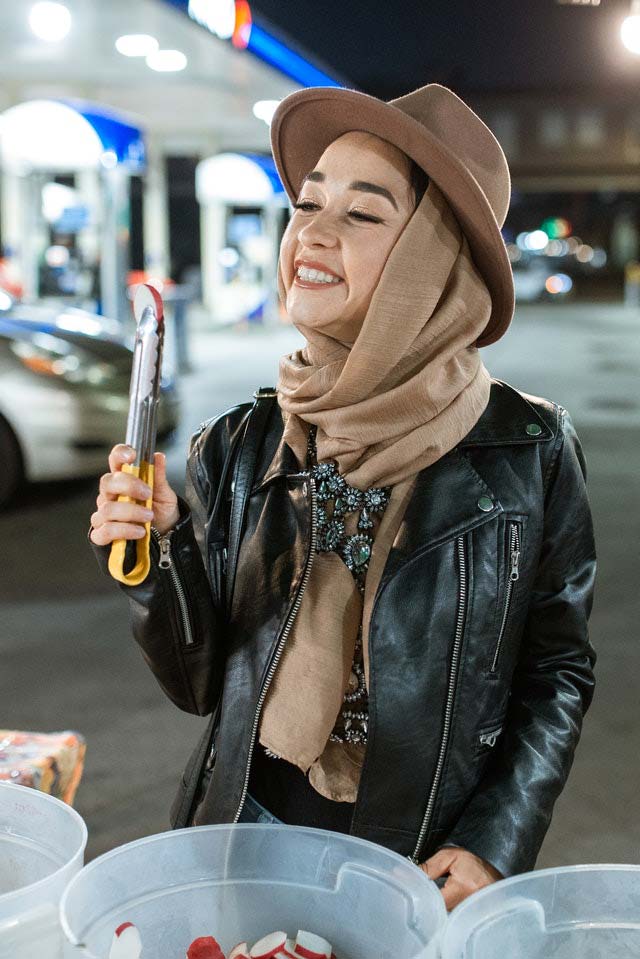 Do you feel that wearing multiple layers just doesn't go well with your body shape? Don't worry! There are several more methods to get a fashionable but comfortable look.
One way that always works is wearing leather jackets. Contrary to popular belief, leather jackets aren't just the cup of tea of those wishing to look edgy. In fact, now both men and women prefer wearing such jackets for both casual and formal occasions.
This is because leather jackets are one piece of clothing that goes well with dresses and dress shirts. And if you pick its color wisely (hint: choose black or brown), you will be able to wear a single jacket with multiple looks.
Try to opt for authentic material. For starters, the genuine leather jackets by Alamode are ideal for longevity, comfort, and style.
Depending on where you live, mostly, winters stay for quite a bit. And it is easy to get tired of all the coats and jackets in your closet (unless you have a huge collection).
When you feel bored by the idea of wearing the same outer layer again, add new life to your outfit by simply belting your coat!
This styling technique works in all sorts of coats, including puffer coats. It all relies on the sort of belt you pick and how easy you can pull off the appearance.
For instance, if you are a bold dresser, you might want a contrasting color belt. But, if you like playing safe, a monochrome option is your best bet.
4
Let Your Footwear Do The Talking
While summers are all about the dresses, the main star of the show during the winters is the footwear. There is no look which a great over-the-knee pair of boots can't fix.
Again, whether you are wearing jeans or dresses, boots go well with them all.
Now, there are two types of boots. One that serves the practical purpose of wearing footwear during the chilling winters is preventing your toes from falling off from the cold, and other "fun" pairs look funky but might be a tad difficult to put on.
You can choose what type of boots to wear and have in your closet during the winter. We recommend that you have at least one pair of fun boots in your closet, as well as a couple functional ones for truly chilly days.
5
Match Your Beanie (or Hat) With Your Coat
Do you ever feel that your beanie just ruins your otherwise great winter look? Well, you are certainly not alone. Beanies tend to give off a vibe that makes you feel too casual and young. Sadly, beanies are a clear-cut way of making sure that your ears don't feel as if they are frozen!
But, there is an excellent trick you can use to combat this issue – match the color of your beanie to that of your coat. When you do so, the role of the beanie changes from being a mere winter topper that everyone from the ages one and above wears to being an intentional addition to a chic ensemble.
If you feel brave enough, you can also switch it up and choose a wool hat, whether it be a fedora or a wide-brimmed style hat, rather than a plain-old beanie.
6
Experiment All You Want With Scarves
There is one thing you can never go wrong with, both in summers and winters, and that is scarves. Whenever you are not sure whether a given jacket, coat, or outfit is warm enough and you are not willing to add another proper layer, a scarf will come to your rescue.
This trendy accessory can be the perfect layering piece if you choose the right material. For instance, a faux fur scarf looks very classy for a night out. And at the same time, it will protect you during the chilly days with all its might.
Since fur scarves are a tad heavy, you might not be comfortable wearing them for a long day out. You don't need to worry. This is because scarves are available in all sorts of materials, including cotton, silk, and velvet. We suggest you get your hands on a simple plaid blanket scarf. You can never go wrong with it.
Welcome The Winters
With these six fashion tips, you can go ahead and rule the fashion scene despite the chilling winters. Let us know which trendy dressing hack you found the most effective. Comment below your secrets too!
RSS Error: https://news4masses.com/category/fashion/feed is invalid XML, likely due to invalid characters. XML error: XML_ERR_NAME_REQUIRED at line 1, column 2