Starting a business can be an extremely fulfilling life event. You get to open up a store and sell products or services you're genuinely passionate about to the world. However, you can't just wake up one day and open up shop. Becoming a business owner takes a lot of research and planning to ensure it's successful. The last thing you want is to end up bankrupt after only a few years or even months of being opened. With that said, take your time before you decide to make your dream a reality. Read our list of four things you should do before starting a business to ensure its success.
 1. 

Create a Business Plan
An essential part of starting a business is creating a business plan. A business plan irons out all of the nuances that come with your business, from the products you're selling to who's in charge. Your business plan is also used by investors, as it shows them how your company will generate revenue and be successful. To make it in the business world, make sure your business plan includes these sections:
Executive Summary: This introductory section briefly outlines what your company is and how it will be successful. Make sure to include your mission statement, products, services, and basic information like your location and employees.
Company Description: In this section, you will provide a thorough summary of your company and the problems it seeks to resolve. Be specific about your consumers, your business's organization, and the competitive advantages your business brings.
Market Analysis: Market research is essential if you want your company to succeed. Discuss your industry and target market to identify trends, themes, what other companies do, and how you can do it better.
Organization: Here, you'll outline the organization and management of your company, including who runs what department and the role of each employee.
Service or Products: Now's the time to go into detail about what you're selling, whether it be a product or a service. Discuss how much it will cost to produce what you're selling, how much you will sell for, and the benefits it brings to customers.
Marketing:In order to get your brand name out to the world, you need to market. In this section, explain your marketing campaigns and how you plan to sell your products or services.
 2. 

Secure Financing
Once your business plan is formulated, it's time to secure financing. Your business plan is essential to securing funding, as it will be reviewed by potential investors. In your business plan, you should discuss your financial projections to show investors how you will grow your business over time. To make accurate projections, consider getting help from small business bookkeeping services that can help you draft your business's future financial outlook.
 3. 

Find a Mentor or Advisor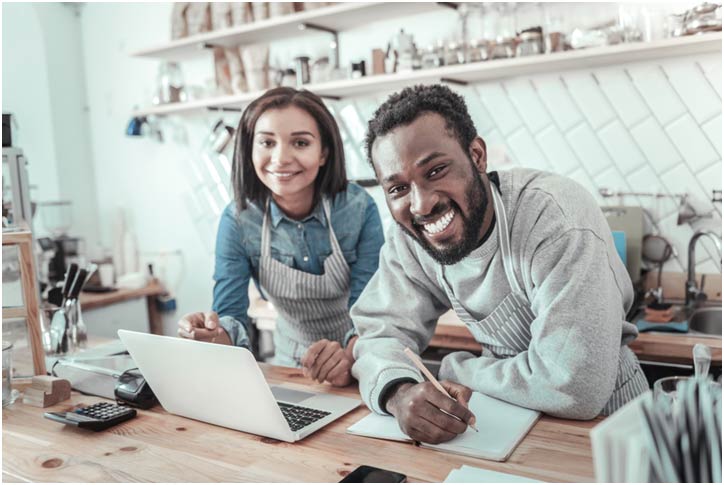 Opening a business is hard, especially if you don't have a lot of business management experience. While you may think you can do everything your own, you'll soon find yourself gasping for air. This is why it's worth finding a mentor or advisor in your industry who can show you the ropes.
There are plenty of ways you can find a mentor or advisor. You can search online using a professional network site, or you can attend networking events and find like-minded business owners. You can also ask for advice from former employers and coworkers too. At the end of the day, everyone wants to see you succeed, so don't feel bad to reach out for help.
 4. 

Ensure Legal Matters Are Met
One of the most stressful and time-consuming aspects of starting a business is ensuring all legal matters are met. Every business is different, which means different certifications and licenses need to be obtained. However, every business needs to establish its legal structure, whether it's an LLC, S Corp, C Corp, or sole proprietorship. To help you get started, you can seek help from a professional lawyer or use a freelance service to find a local lawyer to help you establish your company.
Wrapping Up
To get your business up and running, it's important to take a few precautionary measures. From drafting a business plan to finding a mentor, these are just some of the things you should do before starting a business.