After the first outbreak of COVID-19 in Wuhan, China in late 2019, the first cases in India were reported in Kerala, among three Indian students who had returned from China. And so began the first wave of the dreaded coronavirus epidemic in India which soon held the whole country in its deadly embrace.
Nearly six months after the peak of the first wave in September 2020, coronavirus cases once again started rising in the country from the first week of March 2021. This signaled the arrival of the second wave of the pandemic in the country. This wave was much larger than the first, with shortages of vaccines, hospital beds, oxygen cylinders and other medicines, and limited human resources in parts of the country. On 30 April, India became the first country to report over 400,000 new cases in a 24-hour period. The second wave has been devastating, with a catastrophic rise in the numbers of new infections. The country has now recorded around 2, 75, 55,457 cases and over 3, 18,895 deaths till 28 May 2021.
Prime Minister Narendra Modi described the second wave as a "storm" that has "shaken the nation". The heart-rending scenes witnessed outside hospitals – people dying without getting treatment – show the grim reality of India's healthcare system.
Newspapers, both vernacular and English, and Internet are awash with pictures that show the dilapidated condition that the country's healthcare infrastructure has been, since independence. A picture which went viral on the Internet showed a health sub-centre in a derelict brick structure with a broken board proclaiming it to be one. Milch animals were tied outside it and it was being used as a cattle shelter. Sure, doctors, nurses and other medical workers are appointed to such facilities that exist on paper in government schemes, but they come once a blue moon and rest of the time, they practice from their home. Such health centres can be seen in mofussil regions of rural hinterland, especially in north and central India. Despite the passage of more than 70 years since independence and spending of thousands of crore of rupees, a number of governments having come and gone, the plight of these healthcare centres and lack of medical staff and medical supplies never became an issue.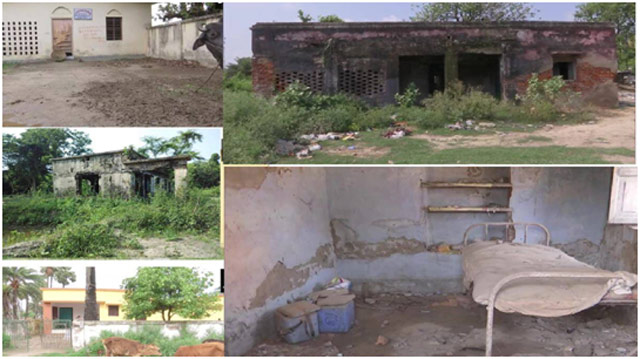 India's "public health infrastructure was always broken," as one expert puts it, "the rich and the middle class are just finding out". Those who could afford it have always relied on private hospitals for treatment, while the poor struggle to get even a doctor's appointment. Recent schemes, like health insurance and subsidized medicines for the poor, are not helpful as very little has been done in decades to increase the number of medical staff or hospitals.
Large nations spend a high proportion of their GDP on health. For instance, in 2018, the U.S.A. spent 16.9%, Germany 11.2%,Brazil 9.2%, South Africa 8.1%, Russia 5.3% and China 5%.
India's healthcare spending, including both private and public, has been around 3.6% of GDP. Even smaller nations like Sri Lanka (3.76%) and Thailand (3.79%) spend more than us to take care of the health of their citizens.         
The low level of public spending on health is both a cause and an exacerbating factor accounting for the poor quality, limited reach and insufficient public provisioning of healthcare.
This crisis has violated the fundamental rights of some of the poorest and most vulnerable classes and sections of Indian society, and exposed decades of utter neglect and abdication of responsibility by the successive governments.
With 8.5 hospital beds per 10,000 population and 8 doctors per 10,000, the country's healthcare sector was not equipped for the crisis of such gargantuan proportions. The burgeoning of the country's population from around 39 crores in 1947 to nearly 138 crores today is yet to see any proportionate robustness in policy response in reasonably quantitative terms, particularly in developing public health infrastructure in rural areas. The growing needs of the population are not met by the significant inefficiency, dysfunctioning and acute shortage of the healthcare delivery systems in the public sector.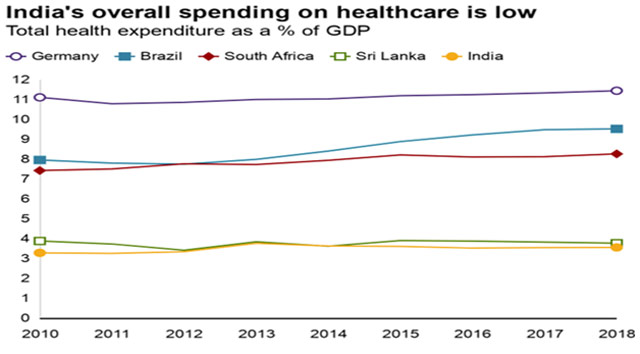 More than 80 per cent of the population still does not have any significant health insurance coverage and about 68 per cent of the population has limited or no access to essential medicines.
Public health system is a conglomeration of all organized activities that prevent disease, prolong life and promote health and efficiency of its people. Historically,the healthcare system in India has been dominated by provisioning of medical care and neglected public health. 18% of all infant mortality and 11.9% of all maternal deaths in the world happen in India, ranking it the highest in the world. Only 62% of all children are immunized and 36.6 out of 1000 children die by the time they reach the age of 5 years. Communicable disease is the cause of death for 53% of all deaths in India.
The pandemic must serve as a wake up call for us to understand that India's healthcare system requires a clear vision to enhance the standards of health for the population.
As the monstrous second wave of the pandemic shows signs of abating, there is already talk of the "inevitable" third wave for the last few weeks. The warnings are strongly emphasized by top experts and ministers so that this time we are not caught off-guard as by the second wave which overwhelmed the entire healthcare system.
The present public discourse is dominated by questions such as how did the things come to such a pass? Did the policy administrators overestimate their ability and underestimate the virus? Did the Indian citizens take the virus lightly and not follow the strict compliance to Covid-19 appropriate behaviour? What is to be done so that such conditions do not visit us again?
The data gleaned from National Health Profile points out the shortcomings in health infrastructure in India such as:
Insufficient Hospital Beds
Dismal Number of Healthcare Centers
Insufficient Blood Banks
Dire Need of more Medical Colleges
Concentration of Healthcare in Metros and Large cities
Non-availability of Urgently Needed Vaccines
Further drawbacks to India's healthcare system today include low quality care, corruption, a lack of accountability, unethical care, overcrowding of clinics and health centres, poor cooperation between public and private spheres, barriers of access to services and medicines, lack of knowledge about public health and low cost factor. All these drawbacks force wealthier Indians to use the private healthcare system, which is less accessible to low-income families, creating unequal medical treatment between classes.
Social and financial inequality too act as barriers to access healthcare services in India. Medical services aren't accessible for the disabled, mentally challenged and the elderly. Public clinics often have a shortage of the required medicines or may supply them at excessively high prices, resulting in large out of pocket costs (even for the ones with insurance coverage). Large distances prevent the general public from availing of healthcare. Even if people travel far distance, there is very less or no assurance that they will receive proper medical attention at that particular time.
So, What Needs To Be Done?
As they say, every cloud has a silver lining and COVID-19 is no exception. The pandemic has opened the eyes of the general public to the sorry state of affairs of India's healthcare system. It is high time that health occupies centre stage from now on, and it is accorded the priority that it deserves. For doing so,  both the public and private sector must come together to build infrastructure and develop skill sets required to deliver proper healthcare as there is an urgent need for overhauling the entire primary medical infrastructure in the country. More rural clinics should be built, streamlined health IT systems should be developed, diagnostic procedures should be standardized and efficiency in operations should be largely improved.
Also Read:
We must be aware of the fact that in India, there is only one doctor per 1404 people and 1.7 nurses per 1000 people while as per W.H.O. mandate, it must be one and a half times the number for the former and two times for the latter. According to a study, nearly 69,000 Indian doctors and 56,000 Indian nurses are serving in countries like the U.S.A., U.K., Canada, Australia etc. We must offer them better service conditions and remunerations and ask them to serve the motherland instead. Also an improved healthcare paraphernelia in India itself, will discourage many more of the medical clan from migrating to foreign lands in the near future.
For proper improvement in the system along with infrastructure, the government must encourage newly minted medical and nursing graduates to work in rural primary health centres.
Capacity building programs should also be conducted for doctors and nurses in emergency response. Apart from it, the government must invest and encourage innovative research.
The need of the hour is not only the demand that the government pump in money in the healthcare infrastructure, but to ensure that the services already provided do not go down the drain due to corruption, negligence and apathy.
More Articles: