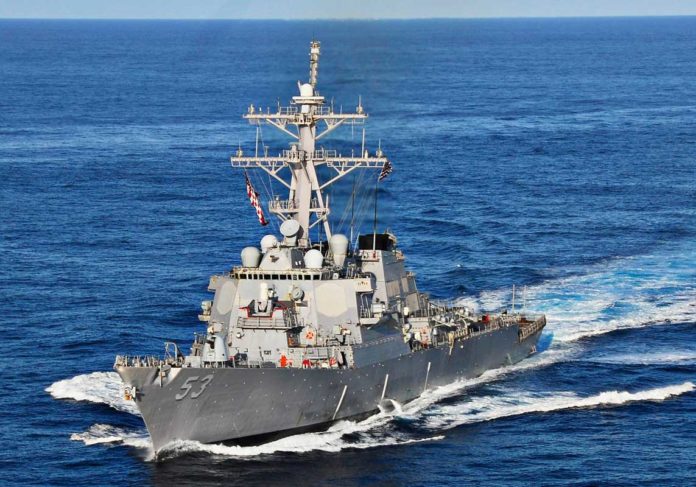 Recently, an incident occurred in India's EEZ which caused an immediate kerfuffle. On April 7, an American guided missile destroyer sailed through India's Exclusive Economic Zone (EEZ), 130 nautical miles west of the Lakshadweep Islands, without intimating India — in violation of the Indian law. As if this was not enough, it was accompanied by a provocative statement released by the US Navy's 7th Fleet, "USS John Paul Jones (DDG 53) asserted navigational rights and freedoms, without requesting India's prior consent, consistent with international law." It further said that this Freedom of Navigation Operation (FONOP) upheld the rights, freedoms and lawful uses of the sea recognised in international law by challenging India's excessive maritime claims.
The action, with its blunt assertion of unilateralism, sparked outrage in India and the Ministry of External Affairs, lodged a diplomatic protest and noted the country's adherence to the United Nations Convention for the Law of the Sea (UNCLOS). Under UNCLOS 1982, to which India is a signatory, waters up to 12 nautical miles of a coastline is that country's sovereign waters and its EEZ extends to 200 nautical miles (370 km).
The incident came close on the heels of US Secretary of Defense Lloyd Austin's visit to India, which was the first high-level visit under the new Joe Biden administration.
The Quad grouping of India, US, Japan and Australia also recently held their first summit in March under the larger ambit of the strategic Indo-Pacific strategic initiative.
So, what prompted the US move?
Sources in the Indian naval establishment, while accepting that the US move was a violation, said it is more of a "messaging to China" than anything else.
While the Indian Navy is yet to respond officially to the US move, former Navy chief Admiral Arun Prakash said, "This action, especially publicising it, was both uncalled for and unnecessary — especially in context of a friend and strategic partner. "Explaining the nuances of the US move, the admiral said it was a message to China. He added that the situation is ironic because the US itself has not ratified the UNCLOS but quotes it to other countries.
Though the USA might be the world's most powerful democracy, it is now not the only superpower in the world anymore but, old habits persist. According to Graham T. Allison, the author of Destined for War: Can America and China Escape Thucydides's Trap? and the Douglas Dillon Professor of Government at the Harvard Kennedy School, USA has extreme superiority complex and sees itself as without any peer; it believes in a defiant unilateralism and regularly intrudes into the waters of other states. The American exceptionalism is alive and kicking.
Also Read (From The Archives)
America regularly conducts so-called freedom of navigation operations (FONOPs) against partner countries but these have drawn little attention. Ordinarily, the incident in India's EEZ would not have generated headlines but for the provocative U.S. statement challenging India's "excessive maritime claims," which are based on long-standing differences between Western maritime powers and many coastal countries over foreign military activities in their respective EEZs.
In fact, the FONOP against India is just the latest in a series of such U.S. actions targeting friends and foes which include Asia's littoral countries such as Japan, the Philippines, South Korea, North Korea, India, Pakistan, Maldives, Thailand, Vietnam, Indonesia and Taiwan, all of which were by Washington of maintaining "excessive maritime claims" of various types. Though the US has also used FONOPS to challenge Beijing's claims in the South China Sea, such actions have had zero impact on China's continued expansion.
America's ever-expanding FONOPs, while failing to deter Chinese expansionism, nevertheless risk alienating its allies and partners. It is high time for the U.S. to debate the utility of military FONOPs against littoral states in Asia and elsewhere because such use of unilateral military operations only reinforces their security concerns of these countries.
As Brahma Chellaney, one of India's top strategic thinkers, observes that, "instead of flexing its naval muscles, the U.S. would do well to employ diplomacy and a compromise-centered approach to bridge differences with its friends so as to advance a rules-based maritime order that helps check Chinese expansionism."
See More: