For anyone with even a remote familiarity with electronics or even for a well informed reader with not much electronics background, it is well known that semiconductors play a critical role. The semiconductor market -which was about $600 billion strong in 2021 – consists of mainly the Integrated Circuits (ICs) and then what is usually clubbed together as "OSD" – that is Optoelectronics, Sensors and Discrete devices. The term "semiconductor chips" is usually associated with the packaged ICs or OSDs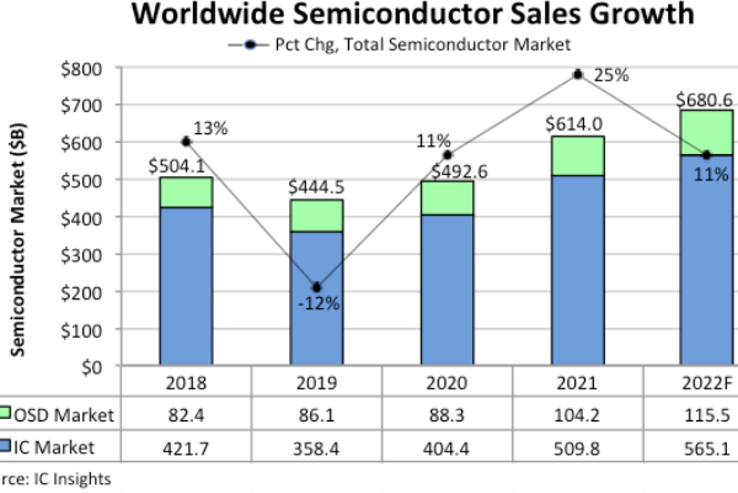 For most ICs as well as OSDs, the starting material is Silicon wafers and for some they are wafers of compound semiconductor material like GaN, SiC, GaAs etc – the compound semiconductor fabs are only for select applications and are not yet used for most of the "chips" . Fabs are the facilities where the ICs or discrete devices get fabricated on these wafers. From the processed wafers which may have anywhere between a few to 1000s of ICs or OSDs, individual chips are diced out and packaged.
ICs are more than 50 year old now and the semiconductor manufacturing industry is even older. Yet, India hardly has any commercial presence – in fact as of today, it does not have even a single one of what can be called a commercial semiconductor fab including the most important Silicon based chip fabs. There is a long history of "failed attempts" to establish a fab in India by reputed semiconductor companies, going into details of which will make this article too long
One notable case is what this 2007 Forbes article called "India Snoozed, Lost Intel Chip Plan"  and said "India lost out on a multibillion-dollar chip plant because the government dragged its heels on introducing an investment policy on semiconductors."
Even the first term of the Narendra Modi government (2014-2019) practically did nothing for realizing commercial fabs in India. In its second term however, there were signs of wanting to do something. In her maiden budget speech on 5th July 2019, the then new Finance Minister Nirmala Sitharaman announced: 
"..the government will launch a scheme to invite global companies through a transparent competitive bidding to set up mega-manufacturing plants in sunrise and advanced technology areas such as Semi-conductor Fabrication (FAB)..."  
It however took the government another 2 years 5 months and 10 days to launch that scheme. On 15th December 2021, the Union cabinet approved schemes to provide incentives for various initiatives including Silicon chip fabs, compound semiconductor chip fabs, chip packaging, chip design and also something not directly connected to chips, namely display fabs. The overlay allocated to the scheme was INR 76000 crore (nearly $10 billion at that time, $9.3 billion now as dollar gained) to be spent over 6 years
The process for submitting applications was opened on 1 Jan 2022. For Silicon fabs, the application deadline was 15 Feb 2022, probably because exactly one year prior to launching the scheme, the government had opened an "Expression of Interest" which was meant for interested parties to work out their investment and technology partners
By the deadline, 3 applications were received for setting up Silicon fabs in India, the names of whom were announced on 19th Feb 2022 along with the names of applications received till then for the other schemes. Ashwini Vaishnaw, the Minister who is in charge of the final decision had around that time said that the evaluation process and signing agreements with the approved applicants will be completed within 8-10 months, that is by October-December time frame
Note that the Minister has since then made statements like "Global standard is 14-15 months, India will do it in 8-10 months" and so on while the fact of the matter is that no such "global standard" exists. If he is referring to the time that US took between proposing the CHIPS Act and finalizing it, quite likely it is lesser than the 2 years 5 months and 10 days that Narendra Modi 2.0 government took after promising the scheme on the floor of the Parliament and before it was formulated and approved by Union Cabinet. Further, more than 11 months after the announcement of the scheme, India is yet to approve any applicant under any of the sub-categories of the scheme
Companies like TSMC did not wait for the CHIPS Act to be finalized – its new fab in Arizona is probably more than 18 months into construction and ready for equipment move-in. In Japan, where discussions on providing an incentive scheme started almost two years after India's budgetary promise – i.e. by around mid of 2021 – new fab has already started construction around April of 2022. The current government of India may be "faster" than previous ones, but still much slower than those in developed countries
We are now in the middle of the timeframe that the Minister promised to complete the "whole process" – which should have logically meant taking decisions on every application received by mid-February- whether Silicon fabs or compound semiconductor fabs or packaging or design or display fabs. So what do we have as the latest news ?
In an interview published in The Economic Times on 10th October 2022, a snip of which is given below, Minister of State Rajeev Chandrashekhar said that "You will see some applications being cleared in October or early November".  Early November is well past and we saw none come through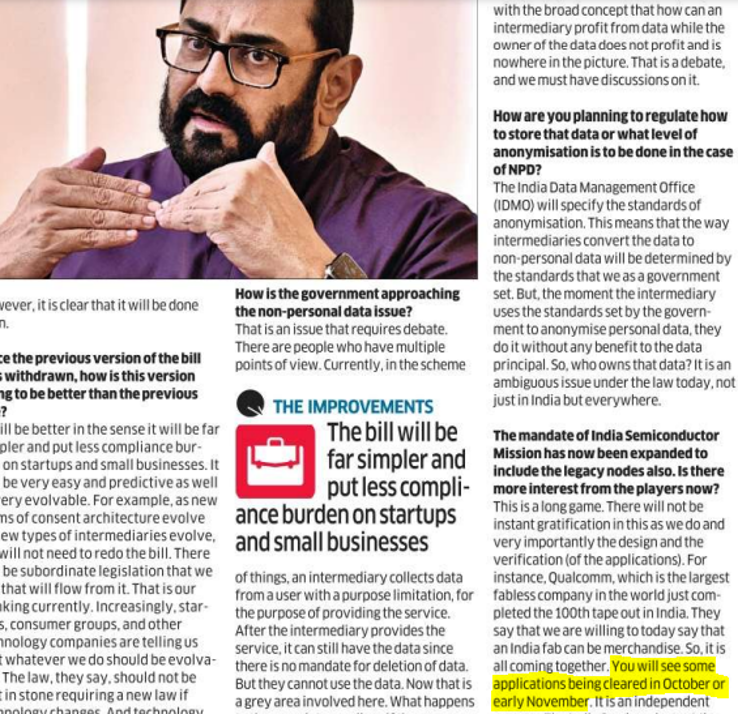 On 8th November, Economic Times quoted an anonymous 'industry official' that "the approval timelines may be stretched as far as February, with the display panel and ATMP (assembly and packaging), and compound approvals streaming in before those for the capital-intensive semiconductor proposals" – in other words, the decision on Silicon chip fabs may be even further delayed
A few days back, Minister Ashwini Vaishnaw said (between 15:30 and 16:00 in below video) that "Hopefully by 1 Jan 2023, you will see at least a couple of approvals for fabs" without specifying whether they will include Silicon fabs. It sounds a far cry from the "we will complete the whole process in 8-10 months" earlier promised. 
The Nation continues to wait for construction of a full fledged commercial Silicon fab to start. In fact, not even for construction to start, but even decision on three proposals !
Post Script: My first media article on the #FabInIndia topic was published in N4M on 21 May 2020 . It has been two and a half years since then. However it may be a much smaller time compared to the wait that some wannabe investors and technology partners have gone through so far itself waiting for government to decide and act.
Also Read: