As the boss, you're responsible for all employee work and employee safety. With the pandemic still at the forefront, paying attention to employee safety is perhaps more important than ever. To help you ensure that you keep your employees safe at work, here are five tips to keep in mind.
Ensure that your employees are aware that they can take small breaks as needed for mental space and physical movement. Staying seated for prolonged periods is not suitable for good health, so encouraging small breaks for fresh air as a morning habit or as a way to re-energize after an afternoon slump will help to promote employee safety. As a result, this will also improve work ethic. Stepping away from the screen periodically is also beneficial to eye health and can prevent decreased blink rate and eye strain.
2
Keep Hand Sanitizer Nearby
The most significant recommendation for safety amidst the pandemic is to wash your hands frequently. Unfortunately, frequent hand washing is not always possible in a hectic work setting. To compensate, people rely on hand sanitizer to stay clean throughout the day. Be sure to stay stocked up on hand sanitizer for employee use throughout the workday in your office. Encourage bathroom breaks as well to facilitate hand washing in addition to hand sanitizer usage. Keep hand sanitizer in the bathrooms as well for added sanitation. You can purchase wholesale hand sanitizer to keep costs down.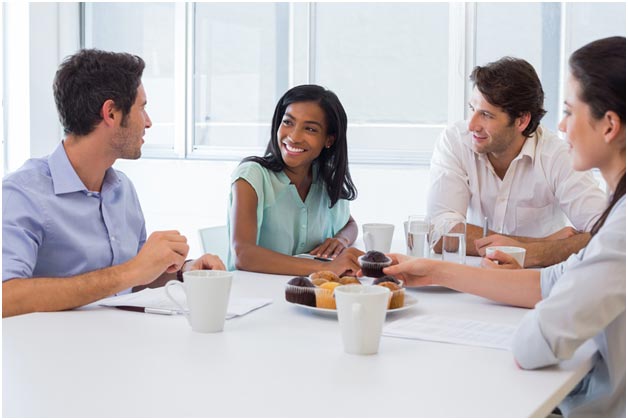 Representational Image
Ensure that the employee lounge or break room is filled with healthy snacks, coffee, and water to keep your workers fueled throughout the workday. Often, when we are busy, we forget to eat or find ourselves reaching for any unhealthy convenient food items available. Without proper nutrition, our work productivity and our health suffer. To help your employees stay appropriately fueled, keep healthy snacks like fruit, salad, and power bars in the breakroom. Include celery in your mix of healthy snacks, as it is rich in water and fiber, providing hydration and nutrition simultaneously. 
4
Find Motivational Rewards
Mental health is just as important as physical health. Do your part to keep your employees motivated about work to avoid depression and burnout. Create work opportunities that will encourage your workers to get ahead, work harder, and enjoy the process. Reward ideas include gift vouchers and promotions as well as paid time off and additional vacation time. You might also introduce an "employee of the month" board depending on your organization's style.
Also Read:
If your workplace culture is more formal, you might acknowledge a job well done by an employee during a public meeting. Voicing appreciation for an employee's work will motivate that employee to continue working hard. It will pique the interests of other employees to work harder to receive the same kind of acknowledgment as well. Consider the personalities of your staff and create a rewards strategy that is most fitting for those in your company.
Make sure that the office stays at a comfortable temperature for your employees. If the room feels too warm or becomes too cold, these uncomfortable temperature fluctuations can distract and get in the way of work productivity. If employees are exposed to temperature discomfort for prolonged periods, they may feel more stressed, negatively impacting their health. Keep airflow temperatures on a timer so that employees get a comfortable balance of warm and colder air throughout the day.
Ensuring that your employees are healthy and happy will take some effort. Take the initiative and follow the guidelines on this list to provide the most comfortable work environment that you can.